Italian Prime Minister Romano Prodi says the aim of the talks is a cease-fire between Israel and Hizballah.
Divided Positions
Jordanian Foreign Minister Abdelelah al-Khatib spoke on July 25 of a "clear Arab stance in Rome demanding an immediate cease-fire."
He was echoed by spokespeople for Saudi Arabia, Egypt, Lebanon, and the United Nations.
That position stands in contrast to U.S. Secretary of State Condoleezza Rice, who called the meeting. Rice says she'll push for getting the conditions right on the ground in Lebanon for a more enduring deal.
The meeting will be attended by representatives of some 15 countries and organizations, including Lebanese Prime Minister Fouad Siniora and UN Secretary-General Kofi Annan. Israel and Syria have not been invited.
Hizballah Announces 'New Phase'
Meanwhile, Hizballah leader Hassan Nasrallah has said the fighting with Israel has entered a "new phase" and the militant group will expand its rocket attacks beyond the northern Israeli city of Haifa.
Speaking on Hizballah's Al-Manar television today, Nasrallah said that Israel would have attacked his forces by October, but decided to strike earlier after the kidnapping of two Israeli soldiers.
He also said Hizballah would not accept any "humiliating" cease-fire conditions.
Israel Launches Gaza Incursion
In Gaza, at least seven Palestinians, including a small girl, were killed this morning as Israel launched a new ground and air offensive.
Among the dead were several members of Hamas, leaders of the group said.
The Israeli Army said it had launched an air strike in the area where the group was killed after militants fired an antitank missile at Israeli troops. Witnesses said an Israeli tank fired on the crowd.
The pre-dawn fighting began when about 50 tanks and bulldozers moved into northern Gaza, near the border with Israel.
Israeli aircraft also fired rockets at houses belonging to Hamas and Islamic Jihad activists, residents said. They reported receiving phone calls warning them to leave their homes before the rocket attacks began.
Joma Saka of Gaza City's Shifa Hospital said 23 people were hurt, and 11 were in critical condition.
(compiled from agency reports)
Iran, Syria, And Hizballah
Iran, Syria, And Hizballah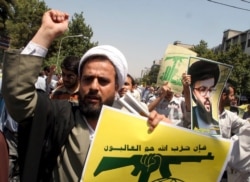 Iranians demonstrating in support of Hizballah in Tehran on July 17 (epa)

'FOR THE SAKE OF LEBANON': The Islamic Republic of Iran has served as an ideological inspiration for Hizballah since the Lebanese militant group's creation in 1982, and Tehran acknowledges that it supports the organization morally and politically. "Yes, we are friends of Syria and Iran" Hizballah leader Hassan Nasrallah has said. "For 24 years we benefited from our friendship with Syria and Iran for the sake of Lebanon...." (more)
RELATED ARTICLES
Tehran Playing Key Role In Israel-Lebanon Crisis
Iran, Hizballah Brush Off U.S. Terrorism Label
Intifada Conference In Tehran Has Multiple Objectives
UN Resolution Rankles Syria, Hizballah, Iran
ARCHIVE
RFE/RL
coverage of Iran
. RFE/RL web special on
Iran's nuclear program
.
SUBSCRIBE
For weekly news and analysis on Iran by e-mail,
subscribe to "RFE/RL Iran Report."