Israeli commandos dropped from helicopters into the ancient city of Baalbek after midnight.
The army said they raided a hospital, seizing five suspected Hizballah fighters and taking them back to Israel.
Hizballah disputes that account.
But whatever its results, the raid close to the Syrian border was Israel's deepest incursion into Lebanon in this three-week war.
Accompanying air strikes in the area killed at least 11 people, and in the south an Israeli warplane attack on a Lebanese army base killed three soldiers.
The violence came despite intensive international efforts aimed at ending the war, which has killed more than 640 people in Lebanon and some 50 in Israel.
On August 1, European Union foreign ministers called for an immediate end to hostilities. And U.S. Secretary of State Condoleezza Rice said a cease-fire could be reached within days.
"If we really put our minds to it and work, this week is entirely possible," Rice said. "Certainly we are talking about days, not weeks, before we are able to get a cease-fire. It's time to end the violence."
But in remarks on August 2, Israeli Prime Minister Ehud Olmert gave no timeframe for an end to the war.
He said Israel would keep fighting Hizballah in Lebanon until a strong international force was deployed.
It is not clear when that will happen, though UN talks on potential contributors are scheduled for August 3.
Olmert also said he believes "Hizballah has been disarmed by the military operation of Israel to a large degree" and that "the infrastructure of Hizballah has been entirely destroyed. More than 700 different ground positions, command positions of Hizballah were entirely wiped out by the Israeli army."
But almost as he spoke, more Hizballah rockets were raining down on northern Israel, wounding at least seven people.
The barrage of rockets -- more than 80 of them -- was one of the most intense yet in the conflict.

The Middle East Crisis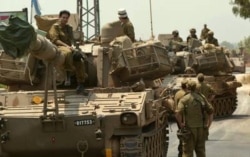 Israeli tanks poised on the border with Lebanon on August 2 (epa)
CLASH OF ARMS:
Since mid-July, Israel has been battling Hizballah guerrillas in southern Lebanon and carrying out punishing air strikes throughout the country. International efforts to broker a cease-fire have met with one obstacle after another, as civilian casualties mount and a humanitarian crisis unfolds. Since Hizballah is closely supported by Syria and Iran, the conflict threatens constantly to develop into a regional conflagration....
(more)
RELATED ARTICLES
Israel Steps Up Assault Despite Hizballah Warning
'We The People Are The Big Losers'
Iranians 'Volunteer' To Help Hizballah
Lebanon Cancels Talks After Bloody Qana Attack
The World Searches For An Elusive Solution
Analyst Says 'U.S. Needs To Talk To Syria, Iran'