The draft Security Council resolution, seen as compromise between the United States and France, urges a "full cessation of hostilities" between Hizballah and Israel.
British Prime Minister Tony Blair on August 5 portrayed the text as "a vital first step" toward peace after 26 days of fighting that has cost hundreds of civilian lives.
"It is an important breakthrough," he added. "And it should mean that on the adoption of the resolution by the full Security Council, there is then a full cessation of hostilities at that point by both sides."
Agreement 'Inadequate'
But reaction to the text, starting with Lebanon, has not been positive.
Lebanese Prime Minister Fuad Siniora flatly told CNN television that the text was "not adequate," while Lebanon's UN ambassador, Nuhad Mahmud, was more diplomatic.
"We appreciate all the efforts made to come up with this draft, but unfortunately it lacked, for instance, a call for withdrawal of Israeli forces which are now in Lebanon, and that's a recipe for more confrontation," Mahmud said.
The draft calls for a "full cessation of hostilities" and an international force to police a buffer zone in southern Lebanon once agreement on a long-term political settlement is reached. The UN mandate for that mission would be presented in a separate resolution.
A Hizballah official said the militant group would accept a cease-fire only after Israel halts attacks and all Israeli soldiers leave Lebanese land.
An Israeli cabinet minister said the government was still studying the draft, but that Israel's offensive against Hizballah would continue for now.
More meetings on the text were to be held today, with a full Security Council vote perhaps on August 7 or 8.
Lebanese officials say they will submit an amended text based on a seven-point plan which calls for an immediate and global cease-fire, an exchange of prisoners, and the deployment of the Lebanese army into the south -- a Hizballah stronghold.
'No End To War'
But for people caught in the war zone, like Beirut resident Rabl'l Elias, hopes are dim that diplomacy will end the fighting any time soon.
"The war is not over. The war in Lebanon will not end," he said. "Believe me. An international war in Lebanon has been raging for years. A war in the Middle East and Lebanon always suffers. It will remain like this as long as there is Lebanon and Israel in this region."
Today, eight Lebanese civilians were killed when an Israeli missile hit houses in the village of Ansar, near the port city of Sidon, and the coastal town of Naqura near the border with Israel.
Northern Israel also came under a barrage of rockets, with deaths and injuries reported.
(compiled from agency reports)
The Middle East Crisis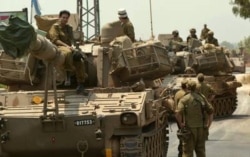 Israeli tanks poised on the border with Lebanon on August 2 (epa)
CLASH OF ARMS:
Since mid-July, Israel has been battling Hizballah guerrillas in southern Lebanon and carrying out punishing air strikes throughout the country. International efforts to broker a cease-fire have met with one obstacle after another, as civilian casualties mount and a humanitarian crisis unfolds. Since Hizballah is closely supported by Syria and Iran, the conflict threatens constantly to develop into a regional conflagration....
(more)
RELATED ARTICLES
Israel Steps Up Assault Despite Hizballah Warning
'We The People Are The Big Losers'
Iranians 'Volunteer' To Help Hizballah
Lebanon Cancels Talks After Bloody Qana Attack
The World Searches For An Elusive Solution
Analyst Says 'U.S. Needs To Talk To Syria, Iran'