In a possible sign of progress, Israel says that it will consider an offer by Beirut to deploy 15,000 Lebanese army troops to stabilize the southern border area.
But Israeli Prime Minister Ehud Olmert said any such move must include disarming Hizballah militants.
Diplomatic Impasse
Despite international concern over civilian casualties, diplomatic efforts to forge a cease-fire have so far failed.
UN Security Council diplomats meet today in New York to discuss a draft resolution on ceasing hostilities in a bid to reach an agreement by August 9. But Israel has vowed to expand its offensive against Hizballah if their efforts fall short.
"Crushing Hizballah is not like ordering a pizza. It takes time." -- Israeli general

Lebanon rejected an initial U.S.-French draft resolution because it did not call for an immediate withdrawal of Israel's 10,000 troops in southern Lebanon.
Beirut also said on August 7 that it would immediately fill the gap left by the departing Israeli forces by sending 15,000 Lebanese soldiers to southern Lebanon.
Israeli Prime Minister Ehud Olmert has called the offer "interesting" and Israel "will examine it closely."
A delegation led by Arab League Secretary-General Amr Musa is expected to lobby for Lebanon's demands at talks at the UN later today. The United States and France have said they will listen closely to the delegation.
Blame For Qana
At the United Nations today, spokesman Fred Eckhard said that Secretary-General Kofi Annan's office told the Security Council that it is too early to determine exactly who was to blame for the Israeli air strikes in Qana, Lebanon, on July 30 in which more than 50 people, including 37 children, were killed.
Eckhard said no UN personnel were present to determine whether Hizballah had been firing rockets from the city, justifying the Israeli air strikes.
According to Eckhard, Annan's letter said the attack on Qana should be seen in "a broader context" of what could be broad violations of international law. But the UN spokesman said the secretary-general stressed that civilians on both sides have been victimized.
"The effects of the current conflict on civilians in Lebanon and Israel rise to a level of seriousness that requires further gathering of information, including violations of international humanitarian law and international human rights law, he says. Accordingly, the secretary-general supports the calls for a more comprehensive investigation," Eckhard said.
Making Way For An International Force
Meanwhile, German Foreign Minister Frank-Walter Steinmeier today began a three-day trip to the region in an effort to convince Lebanon and its Arab allies to accept the draft resolution.
"With the [UN] Security Council [draft] resolution, which will be presented for approval in New York this week, we have a real chance for an urgent and necessary cease-fire in the Middle East," he told reporters before leaving Berlin.
"A precondition is that both parties -- Israel, as well as Lebanon -- agree to the establishment of an international stabilization mission in the border area in the south of Lebanon," he added.
Olmert has said Israel would welcome a robust international force in southern Lebanon. But Israel's main concern remains the presence of Hizballah fighters in the area, as Israeli Brigadier General Yossi Kupperwasser, a senior intelligence officer, told reporters in Tel Aviv on August 7.
"Some people ask, 'How come the Israeli army has not crushed Hizballah within five minutes?' So, let me tell you something: Crushing Hizballah is not like ordering a pizza. It takes time," Kupperwasser said.
In fighting today, at least two Israeli soldiers were reported to have been killed in clashes in southern Lebanon.
And witnesses have reported repeated Israeli air strikes and hundreds of artillery shells in the southern Lebanese town of Khiam. So far there is no word on casualties.
The Middle East Crisis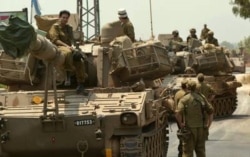 Israeli tanks poised on the border with Lebanon on August 2 (epa)
CLASH OF ARMS:
Since mid-July, Israel has been battling Hizballah guerrillas in southern Lebanon and carrying out punishing air strikes throughout the country. International efforts to broker a cease-fire have met with one obstacle after another, as civilian casualties mount and a humanitarian crisis unfolds. Since Hizballah is closely supported by Syria and Iran, the conflict threatens constantly to develop into a regional conflagration....
(more)
RELATED ARTICLES
Israel Steps Up Assault Despite Hizballah Warning
'We The People Are The Big Losers'
Iranians 'Volunteer' To Help Hizballah
Lebanon Cancels Talks After Bloody Qana Attack
The World Searches For An Elusive Solution
Analyst Says 'U.S. Needs To Talk To Syria, Iran'