If Prime Minister Ehud Olmert and Defense Minister Amir Peretz act on this authorization, the war could last another month unless the United Nations acts quickly to impose a cessation of hostilities.
Immediately after the Security Cabinet vote, there were reports that Israeli ground forces had pushed another 3 kilometers into Lebanon.
'No-Go' Area
The aim is for Israel to control southern Lebanon from the Israeli border to the Litani River, nearly 30 kilometers to the north. Already Israel has dropped leaflets warning that its forces would strike any vehicles moving in the area, making it a so-called "no-go" area.
Israeli cabinet minister Eli Yishai said the government estimates that, with this broader operation, Israel is expected defeat Hizballah within 30 days.
Doubly Risky Move
Yet a broader war is doubly risky for Israel.
It makes the country more vulnerable to charges that it is trying to undermine diplomatic efforts to end the fighting. And it puts its forces at greater risk against Hizballah. The Shi'ite militia has proved to be a better-trained and better-equipped force than Israel had anticipated.
In New York, diplomats today were negotiating language for a UN Security Council resolution for a cessation of hostilities that was submitted jointly by France and the United States. A vote on the resolution is not expected before August 10.
In Paris, French President Jacques Chirac delivered a nationally televised address urging support for the proposal.
"We have used all our efforts to achieve a cease-fire and a durable resolution to this dramatic crisis," Chirac said. "As France has declared right from the beginning, nothing will be solved through force. Any solution must come through a political agreement."
Chirac urged UN negotiators to be mindful of two issues that he says are paramount: the sovereignty of Lebanon and Israel's right to security.
Aid In Jeopardy
Meanwhile, aid agencies say Israel's ban on vehicular traffic in Lebanon south of the Litani River has cut off supplies to thousands of people trapped by fighting and air strikes.
"Obviously it's quite a setback for us," said Robin Lodge, a spokesman for the UN's World Food Program in Beirut. "Food is beginning to run out and clean water is also a problem. So it's vital that we manage to resume operations down there as soon as we can. Unfortunately, it appears we will not be able to do that for the next couple of days."
Jeff Goodman, a doctor with the charity International Medical Corps, says Israel's vehicle curfew hasn't affected the bulk of their operations in the south, which are outside the "no-go" area.
But he says the destruction of supply routes farther south means the situation there is already desperate.
"Down in the Tyre area we're pretty much cut off from the ability to get any materials to these people. In other words what I'm seeing is a very desperate situation, the ability to refuel vehicles, to refuel generators is becoming [critical], actually," Goodman said.
World Food Program spokesman Lodge says his organization hopes to resume convoys within the next few days.
Bridge On The Litani
But he says there's a major complication. On August 7, Israeli warplanes destroyed a bridge over the Litani River, the last major crossing point used by aid agencies to take supplies to the south.
"The problem is that with the second crossing now over the Litani River cut, we would be unable to get there until we have done a [reconnaissance] to establish a new route with a greater detour, or the bridge gets repaired," Lodge said. "I know that UNIFIL have people down there and have people looking into repairing the bridge, but my understanding is that they're seeking an assurance it would not be simply destroyed again."
Lodge says if the Israelis give the go-ahead, and the bridge is repaired, the World Food Program should be able to start sending aid again on August 11.
"We're always ready to go," he says.
The Middle East Crisis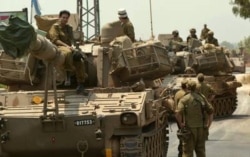 Israeli tanks poised on the border with Lebanon on August 2 (epa)
CLASH OF ARMS:
Since mid-July, Israel has been battling Hizballah guerrillas in southern Lebanon and carrying out punishing air strikes throughout the country. International efforts to broker a cease-fire have met with one obstacle after another, as civilian casualties mount and a humanitarian crisis unfolds. Since Hizballah is closely supported by Syria and Iran, the conflict threatens constantly to develop into a regional conflagration....
(more)
RELATED ARTICLES
Israel Steps Up Assault Despite Hizballah Warning
'We The People Are The Big Losers'
Iranians 'Volunteer' To Help Hizballah
Lebanon Cancels Talks After Bloody Qana Attack
The World Searches For An Elusive Solution
Analyst Says 'U.S. Needs To Talk To Syria, Iran'