British Home Secretary John Reid said the security services had raised the threat level from "severe" to "critical," the highest possible level, which, according to the website of MI5, the British Security Service, means an attack is expected soon.
"The police, with the full knowledge of ministers, have carried out a major counterterrorism operation to disrupt what we believe to be a major threat to the United Kingdom and international partners," Reid said today.
London Metropolitan Police Deputy Commissioner Paul Stephenson said the plan had been to commit mass murder.
"We cannot stress too highly the severity that this plot represented," Stephenson said. "Put simply, this was intended to be mass murder on an unimaginable scale."
21 In Custody
Police said they have detained 21 people and believe that they have seized all the main suspects However, they said the reason for raising the threat level is the fear there may be a back-up plot of which the police are not aware.
"The police, acting with the security service MI5, are investigating an alleged plot to bring down a number of aircraft through mid-flight explosions, causing a considerable loss of life," Reid explained. "The police believe the alleged plot was a very significant one indeed."
"There are 21 people who are in custody at this moment in time," Stephenson said. "The operation is ongoing. We've been very successful in arresting those we were targeting, but this is a lengthy operation, and no doubt there will be further developments."
The alert comes just 13 months after four British Islamist suicide bombers wreaked havoc on the London transport system, killing 52 people and injuring hundreds.
Speaking on the anniversary of those bombings, London police chief Sir Ian Blair warned of the liklihood of additional incidents.
"I fear that it is almost inevitable that there will be further attacks and almost inevitable that some of those attacks will get through," Blair said. "That is the new reality in which we are operating."
Reports That 20 Planes Were Targeted
The British television channel Sky News says that, according to their sources, the plot had targeted around 20 planes and would have caused massive loss of life if it had succeeded.
Britain's Transport Secretary Douglas Alexander outlined the security measures introduced today at British airports.
"All UK airports and all airlines operating into and out of the United Kingdom were asked to implement a heightened level of security," Alexander said. "This step has been taken to ensure maximum security on all flights so people can go ahead with their travel arrangements."
Passengers are being told they cannot carry hand luggage onto flights except for essential items placed in transparent bags. Milk for babies must be tasted by the accompanying passenger before it is allowed on board.
"All hand baggage will now have to be checked in with only a small number of essential items allowed through search controls," Alexander said. "Exceptions will be in place for those traveling with infants and for prescription medicines. Extra security arrangements will be in place for flights to the United States of America."
"We would ask all passengers not to come to the airport today unless it's absolutely necessary," said BAA spokesman Tony Douglas. "We would also advise those passengers who must travel today to consider using public transport and be prepared for long delays as a result of these measures."
Global Reaction
The security alert has caused chaos at British airports with massive queues at check-in and long tailbacks on the roads leading to airports.
Airlines around the world have stepped up security or cancelled flights to Britain. The measures were announced by airlines in Britain, France, the Netherlands, Australia, Belgium, and Germany. British airports operator BAA warned of severe delays at London's Heathrow airport and advised passengers to cancel their flights.
The U.S. government also raised its threat level to the highest level for commercial flights from Britain to the United States.

London's biggest hub, Heathrow, announced that it has temporarily banned all incoming flights.
Expert Commentary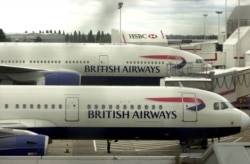 Aircraft parked at London's Heathrow Airport (epa file photo)
'A VERY LARGE-SCALE OPERATION':
RFE/RL spoke to
TIM WILLIAMS
, the head of the European Security Program at the London-based Royal United Services Institute, about the alleged terrorist plot uncovered by British security forces today and its implications.
RFE/RL: Does this disclosure show that British security services are doing their job, and are now operating better than they were last year, when they failed to prevent the London transport bombings?
Tim Williams: We are at the very early stages, and there have been a number of arrests. We are currently at 21 people in custody, and the security services and police have clearly done a very, very good job to foil the attacks. But it's also important to remember that today the threat level to the U.K. has been upgraded to the highest level. Now the home secretary has said that is a precautionary measure, but the wording of that threat level is such that we must suspect that perhaps not everyone has been caught yet, and that there's more work to do to ensure that these attacks are foiled.
RFE/RL: Is it inevitable that the United Kingdom will be targeted in view of its policies in Iraq and now Lebanon?
Williams: It is difficult to argue that those things don't contribute, that perhaps the U.K.'s military involvement in Iraq has been a recruiting sergeant for some of these extreme terrorist organizations. But what we most also remember is that these groups have been active for a long time and rather than these policies causing this terrorism, it is something that extreme ideologies and extreme groups exploit for their own ends.
RFE/RL: Using hand luggage as a means of hiding explosive material indicates suicide bombings. Is this confirmation of the radicalization of terrorist activities in Britain?
Williams: The authorities in the U.K. have said that at least a majority of the arrests that have been made have been of British-born people. The information that we have about the attacks so far -- the foiled attacks -- suggests that they were likely to be suicide bombings and so, yes, that is very concerning indeed. But the authorities and security services in the U.K. have warned for a long time that this is a threat.
RFE/RL: Who is behind this plot, which would seem to require considerable resources?
Williams: That is the worrying issue -- the scale of this operation. The press reports are suggesting that there were perhaps up to 10 planned attacks, on 10 separate aircraft. We already have had 21 arrests [and] one could reasonably suspect that there will be more to follow. We are talking about a very large-scale operation and I think that [with] an operation of this size, the immediate suspicion is that there has been foreign involvement in this but all this remains to be seen.
RFE/RL: Have the terrorists been able to achieve something in terms of the widespread disruption of aviation now and in the coming weeks?
Williams: The difficulty to the public and the fact that this will be rolling across all the news television stations, on the radio, and across all the websites will achieve exactly what the terrorists want to achieve: instill fear in the wider population. So, obviously it is a very, very good thing that these attacks have been foiled but the terrorists, through the publicity that they receive, will achieve some of their aims.
SUBSCRIBE
For news and analysis on organized crime and terrorism around the world, subscribe to
"RFE/RL Organized Crime And Terrorism Watch."