Cabinet minister Rafi Eitan said the new military campaign was put on hold to give diplomatic efforts a chance to reach a cease-fire.
The suspension, which was given with no time frame, comes after Israeli troops, backed by tanks, early today seized the town of Marjayoun, about 9 kilometers from the border with Israel.
Another Israeli minister, Yitzhak Herzog, made clear Israel would resume its offensive if diplomatic efforts produce no results.
Heavy Price
Hizballah leader Sheikh Hassan Nasrallah dared the Israeli forces to come deeper into Lebanon, saying his fighters are prepared for them.
"You will not be able to stay in our land, and if you come in, we will force you out, we will turn our precious southern land into a graveyard for the occupying Zionists." -- Hizballah leader

"I say to the Zionists, you can come here and go anywhere you like, you can invade and deploy your troops that are brought by air and enter villages or military points -- this is nothing new and I repeat my position -- but you will pay a heavy price for all this," Nasrallah said on Hizballah's Al-Manar television on August 9.
"You will not be able to stay in our land, and if you come in, we will force you out, we will turn our precious southern land into a graveyard for the occupying Zionists," he added.
So far, the fighting in southern Lebanon has exacted a heavy toll on both sides' forces.
Israeli television says it has confirmed reports that 15 Israeli soldiers were killed during combat in southern Lebanon on August 9, the highest one-day casualty toll for Israel's military in the four-week-old conflict.
Diplomatic Efforts Stymied
Diplomatic hopes for solving the Israel-Lebanon crisis center on getting a UN resolution for an end to fighting. But that effort remains at a crossroads.
A U.S.-French draft resolution calling for an immediate cessation of hostilities has run into difficulties over whether to include an amendment demanding Israel withdraw its forces.
France, backing Lebanon, now says Israel should withdraw its some 10,000 troops if the Lebanese Army deploys into southern Lebanon. Beirut says it is ready to immediately send 15,000 troops into areas controlled by Hizballah to assure an end to hostilities.
But Washington backs Israel's desire to keep its troops in Lebanon until the arrival of an international force -- something that could take longer.
"The strategic issue, however, remains the same as it has been from near the outset of this, which is that everybody wants to see this [UN Security Council resolution] used to transform the situation in the region, which means, fundamentally, that we don't want Hizballah to reinfiltrate the southern part of Lebanon," U.S. Ambassador to the UN John Bolton said on August 9.
The five permanent members of the UN Security Council are to meet again today for talks in New York.
Speaking for the first time about the diplomatic efforts, Hizballah's leader on August 9 denounced the original U.S.-French draft cease-fire plan as "unfair and unjust."
But Nasrallah said Hizballah is solidly behind the Lebanese government plan to deploy soldiers in south Lebanon once a cease-fire is reached and Israel withdraws its forces.
He also urged Arab residents of Haifa to leave in an apparent threat by Hizballah to resume launching missiles at Israel's third-largest city.
The Middle East Crisis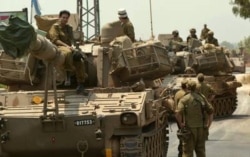 Israeli tanks poised on the border with Lebanon on August 2 (epa)
CLASH OF ARMS:
Since mid-July, Israel has been battling Hizballah guerrillas in southern Lebanon and carrying out punishing air strikes throughout the country. International efforts to broker a cease-fire have met with one obstacle after another, as civilian casualties mount and a humanitarian crisis unfolds. Since Hizballah is closely supported by Syria and Iran, the conflict threatens constantly to develop into a regional conflagration....
(more)
RELATED ARTICLES
Israel Steps Up Assault Despite Hizballah Warning
'We The People Are The Big Losers'
Iranians 'Volunteer' To Help Hizballah
Lebanon Cancels Talks After Bloody Qana Attack
The World Searches For An Elusive Solution
Analyst Says 'U.S. Needs To Talk To Syria, Iran'