If diplomacy is "the art of the possible," Boucher might have had a tough time spotting opportunities in Uzbekistan.

He issued seemingly cautious comments in Tashkent on August 9 after meeting with President Islam Karimov and Uzbekistan's new foreign minister, Vladimir Norov.

"We talked about areas of common interest, in a practical way, and we also talked about actions that are needed to try to rebuild trust to try to achieve real cooperation in these areas," Boucher said. "These were good discussions, these were thorough discussions, but I can't tell you at this moment what will happen next. It will depend on what both sides actually do to pursue and develop this cooperation. For our part we're willing to try."

'Long Break'

Karimov noted that the senior U.S. official's visit had come "after a long break."

Before May 2005, the Uzbek government courted friendly ties with the United States to distance itself from its former colonial master, Russia. After September 11, 2001, Uzbekistan allowed the United States to use a military airbase on its territory for operations in Afghanistan. Karimov even praised the United States for ridding Central Asia of its greatest security menace -- the Taliban.
Top U.S. officials regularly traveled to Tashkent, and Karimov visited Washington in March 2002.
"We talked about actions that are needed to try to rebuild trust to try to achieve real cooperation..."
Then came Andijon in May 2005. Troops were sent to the eastern Uzbek city after a jail break freed hundreds of prisoners -- some of whom then mixed with peaceful protesters in Andijon and seized government buildings and officials. Troops opened fire on the crowd.
International rights groups and some witnesses called it a massacre of hundreds of innocent people. The Uzbek government said the troops put down an attempted coup by Islamic militants and, in the process, 189 soldiers, militants and innocent civilians were killed.

The UN called for an independent investigation, a call the U.S. government echoed. The Uzbek government then told Washington to remove its troops from Uzbek soil before the end of the year. The Uzbek government has since courted Moscow and Beijing, shunning not just the United States, but the West in general.

Boucher did not go to Uzbekistan during a regional tour earlier this year.

Rights An Issue

On August 9, Boucher said that Uzbekistan's human rights situation remains a point of contention between his government and Uzbekistan's.

"The United States has been and continues to be profoundly concerned about the human rights situation here [in Uzbekistan]," Boucher said. "The government here knows that and we report on it in our human rights report. The question is whether we can move forward to improve the situation, whether we can have a dialogue, whether we can try to improve the situation for the people who have been victimized by human rights violations and whether we can find a way to move forward or the government will find a way to move forward here."

Boucher also warned that respect for fundamental rights is a call that Washington will not neglect in future dealings with Tashkent.

"We've been prepared in the past to take necessary steps if the relationship deteriorates, and we may have to do that in the future." he said.

Boucher faced mounting challenges in relations with his Uzbek hosts. They include recent court decisions closing a number of U.S.-based NGOs and businesses in Uzbekistan. This week, a Tashkent city court turned down an appeal by a U.S. NGO over the closure of its office. The day Boucher arrived, Uzbekistan's representative to the United Nations issued a public rejection of UN criticism over the Andijon crackdown.

Boucher is likely to receive a warmer welcome from Kyrgyz officials, and travels on to Tajikistan on August 11.
Military Bases In Central Asia
Military Bases In Central Asia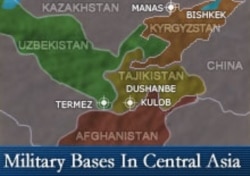 Click on the map for an enlarged image.

PROJECTING POWER: Since the collapse of the Soviet Union and the onset of the war on terror, Central Asia has played an important role in military-security issues. At times, Russia and the West have clashed over questions related to military deployments. RFE/RL has provided extensive coverage of this increasingly important geopolitical matter.
RELATED ARTICLES
U.S. Official Discusses Policy In Central Asia
Kazakhstan Looks To Build On Alliance With Putin
The Geopolitical Game In Central Asia
Dushanbe Conference Focuses On Regional Security
Russia And U.S. Often At Odds In Central Asia
China-Russia Bloc Challenges U.S. In Region


THE COMPLETE STORY: Click on the icon to view a dedicated webpage bringing together all of RFE/RL's coverage of Kazakhstan, Kyrgyzstan, Tajikistan, Turkmenistan, and Uzbekistan.