Uzbek Court Fines Christian Evangelists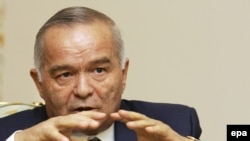 Uzbek President Islam Karimov has been criticized throughout his 15-year rule for suppressing religious freedoms (file photo) (epa) August 10, 2006 -- A Tashkent city court has sentenced a group of Christian evangelists for allegedly violating Uzbekistan's law on religion.
One of the group's members, Andrei Shishkin, was sentenced to pay nearly $400 for organizing Bible reading sessions at a summer camp near Tashkent.
The source of the report, the pro-government website press-uz.info, does not say how many people were convicted, nor when their trial took place.