The leader of Hizballah, Sayyed Hassan Nasrallah, has said his fighters will abide by the cease-fire, provided Israeli forces also adhere to it.
Israeli Prime Minister Ehud Olmert argued Hizballah will not continue to exist as "a state within a state" after the cease-fire, and won the backing of 24 members of the cabinet. One minister abstained. However, the session was reportedly stormy.
Israeli Foreign Minister Tzipi Livni made clear after the decision that Israeli troops will leave southern Lebanon only when the Lebanese Army and an international force are in place. She said Israel plans to pull back as the stabilization forces move southward. Officials say it may take several weeks to muster the international force mandated by the UN as part of its resolution to end the fighting.
The fighting is due to end early on August 14.
UN Secretary-General Kofi Annan on August 12 called on all sides to stop the fighting "now, to respect the spirit and intent of the council decision, the object of which was to save civilian lives, to spare the pain, the suffering that the civilians on both sides are living through."
Israel Suffers Bloodiest Day Of Campaign
However, Israel is continuing to push deeper into Lebanon and in the past day it has tripled the number of troops in Lebanon. It says its purpose is to ease the task facing the 15,000 international and 15,000 Lebanese troops due to take up position along Lebanon's border with Israel and thereby to create a buffer zone between Israel and Hizballah strongholds in southern Lebanon.
The result has been a day of heavy fighting. Israel reports that it lost 19 troops on August 12, its worst death toll of the campaign. In addition, the Israeli military said it fears that five members of a helicopter shot down during the day are dead.
In addition, one civilian was killed and seven injured by some of the 155 rockets that Hizballah has reportedly fired into Israel today. In the 33 days of fighting, Hizballah has launched more than 3,500 rockets at targets in Israel.
In Lebanon, three civilians were killed and 13 wounded in an Israeli air raid on the village of Ali Al Nahri in the eastern section of the Bekaa Valley. Five people, including a mother and her three children, died when a house was struck near the southern city of Tyre. Israeli warplanes have struck scores of villages and towns across Lebanon in the past 24 hours.
The composition of the international force remains unclear, but the European Union's foreign policy chief, Javier Solana, said on August 13 that he anticipates troops from several European Union countries to be deployed in southern Lebanon quickly.
France and Italy are widely expected to provide troops.
Israel's "Haaretz" newspaper also reports that Israel is willing to discuss a possible release of Hizballah prisoners in exchange for the release of two captured Israeli soldiers.
(compiled from agency reports)
The Middle East Crisis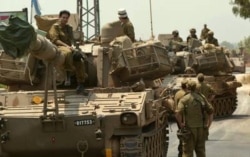 Israeli tanks poised on the border with Lebanon on August 2 (epa)
CLASH OF ARMS:
Since mid-July, Israel has been battling Hizballah guerrillas in southern Lebanon and carrying out punishing air strikes throughout the country. International efforts to broker a cease-fire have met with one obstacle after another, as civilian casualties mount and a humanitarian crisis unfolds. Since Hizballah is closely supported by Syria and Iran, the conflict threatens constantly to develop into a regional conflagration....
(more)
RELATED ARTICLES
Israel Steps Up Assault Despite Hizballah Warning
'We The People Are The Big Losers'
Iranians 'Volunteer' To Help Hizballah
Lebanon Cancels Talks After Bloody Qana Attack
The World Searches For An Elusive Solution
Analyst Says 'U.S. Needs To Talk To Syria, Iran'