Ceremonies Mark Berlin Wall's 45th Anniversary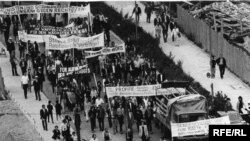 Berliners protest against the construction of the wall (RFE/RL) August 13, 2006 -- Germany today marked the 45th anniversary of the day communist East Germany began building the Berlin Wall.
Politicians joined families who lost loved ones in attempts to escape from Eastern Germany in laying wreaths on Bernauer Strasse, where the communist authorities first sealed the border on August 13, 1961.
Berlin Mayor Klaus Wowereit and Interior Minister Wolfgang Schaeuble attended a memorial service for the victims. The wall came down nearly 17 years ago.
(AFP)