Just hours after a
cessation of hostilities
came into effect in Lebanon, Olmert told the Knesset that he promised to personally lead all efforts to to get back the two Israeli soldiers whose kidnapping by
Hizballah militants on July 12 began the fighting.
And he said the just-ended offensive had damaged Hizballah's long-term capabilities, its arsenal, and its confidence. Further, Olmert said Israel will keep pursuing Hizballah leaders "everywhere and anytime" and will hunt them down.
"They [Hizballah leaders] will not get off free," he said. "We will continue to pursue them everywhere and anytime. This is our moral obligation to ourselves and we have no intention to apologize or to ask anyone's permission for that."
Three members of the Knesset were removed from the chamber for heckling during Olmert's speech.
The prime minister acknowledged there had been "shortcomings" in the conduct of the war, but said the government would not apologize for its decisions.
Meanwhile, Hizballah leader Hassan Nasrallah today claimed his guerrilla fighters had won a "historic" victory against Israel in the 34 days of the conflict centered on southern Lebanon.
Speaking on Hizballah's Al-Manar television, he said the massive destruction that Israel inflicted upon Lebanon showed its "impotency". He said Hizballah would help repair the damage. Nasrallah was giving his first substantial comment since the end of hostilities this morning.
Aid Convoys Arrive In Tyre
The first United Nations aid convoys in days arrived in the southern Lebanese port city of Tyre today, hours after a cease-fire between Israel and the Hizballah militia went into effect.
Two convoys of 24 trucks transported medical supplies, sanitary goods, food, and water for the city, which has been virtually cut off from the rest of the country by the Israeli offensive.
A spokeswoman for the UN High Commissioner for Refugees, Astrid Van Genderen Stort, said
speed is essential. "In the coming days, we will be needing to preposition goods and to be able to service the people on the ground as quickly as possible, and possibly also with tents," she added. "There are probably people going back to their houses who find their houses destroyed but who would want to set up a tent next to it, from where they can work on their house."
Another UN spokesman said a convoy would also be travelling today to the southern Christian village of Rmeish, where residents and refugees have been left almost isolated.
(Reuters, AFP, AP, dpa)
The Middle East Crisis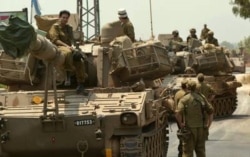 Israeli tanks poised on the border with Lebanon on August 2 (epa)
CLASH OF ARMS:
Since mid-July, Israel has been battling Hizballah guerrillas in southern Lebanon and carrying out punishing air strikes throughout the country. International efforts to broker a cease-fire have met with one obstacle after another, as civilian casualties mount and a humanitarian crisis unfolds. Since Hizballah is closely supported by Syria and Iran, the conflict threatens constantly to develop into a regional conflagration....
(more)
RELATED ARTICLES
Israel Steps Up Assault Despite Hizballah Warning
'We The People Are The Big Losers'
Iranians 'Volunteer' To Help Hizballah
Lebanon Cancels Talks After Bloody Qana Attack
The World Searches For An Elusive Solution
Analyst Says 'U.S. Needs To Talk To Syria, Iran'