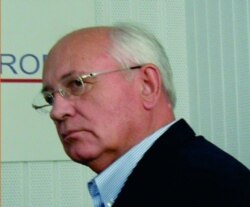 Mikhail Gorbachev in RFE/RL's Moscow bureau in August 2001 (RFE/RL)
AN UNCERTAIN LEGACY:
According to a recent Harris poll, some 59 percent of European Union residents regard former Soviet President Mikhail Gorbachev as the best Soviet/Russian leader. Just 12 percent named Russian President Vladimir Putin and 4 percent picked former Russian President Boris Yeltsin. Within Russia, the situation is quite different, with only 12 percent of Russians saying they have a positive impression of Gorbachev in a recent poll.
Gorbachev has been a frequent guest in RFE/RL's studios, offering his assessment of key domestic and international events.
RELATED ARTICLES
Gorbachev Reflects On The Legacy Of The Coup
Gorbachev Speaks To RFE/RL Ahead Of 75th Birthday
Gorbachev Speaks About Democracy, Authoritarianism
Gorbachev Remembers Pope John Paul II
SUBSCRIBE
For news and analysis on Russia by e-mail,
subscribe to "RFE/RL Russia Report."