Steve Centanni, a U.S. citizen, and Olaf Wigg of New Zealand were kidnapped in Gaza on August 14 by a previously unknown group calling itself the Holy Jihad Brigades. The kidnappers had demanded that the United States release Muslim prisoners.
After his release, Centanni told Fox News in a phone call that during his capture, he was held at times facedown in a dark garage, tied up in painful positions. He said that he and Wiig were forced at gunpoint to make statements, including that they had converted to Islam.
'Don't Be Afraid To Come Here'
But later at a news conference, Centanni said he hoped the kidnapping would not discourage other journalists from reporting from the Middle East.
"I hope that this never scares a single journalist away from coming to Gaza to cover this story because the Palestinian people are very beautiful and kind-hearted, loving people, and the world needs to know more about them," he said.
"Do not be discouraged. Come and tell the story. It is a wonderful story. I am just happy to be here and thanks again for all your support," Centanni said.
Wiig also said he was worried that the kidnapping would scare off reporters. "My biggest concern really is that as a result of what happened to us foreign journalists will be discouraged from coming here to tell the story and that would be a great tragedy for the people of Palestine and especially for the people of Gaza," he said.
Forced Conversion To Islam
Earlier today, the two journalists appeared on a videotape reading a statement saying they had adopted Arabic names and converted to Islam.
Centanni said in the video: "I am American, and after I entered Islam, I changed my name to Khalid. I have embraced Islam and say the word 'Allah' and my leader is the Prophet Muhammad."
Wiig, with his face expressionless and his tone halting, repeated almost the identical statement: "My name is Olaf, I am from New Zealand. After I entered Islam, my name became Yaqub."
The journalists condemned U.S. policy toward the Muslim world and urged to change the U.S. course toward Afghanistan and Iraq. Centanni said on the tape: "Please, President Bush, please, Tony Blair! Open your minds to Islam, and bring peace to all people around the world."
Wiig called on leaders of the West to stop "hiding behind the 'I don't negotiate with terrorists' myth."
Unknown Group, Or Hamas?
Little is known about the group behind the kidnapping.
However, some Palestinian security officials insisted the name, the Holy Jihad Brigades, was a front for local militants, and that Palestinian authorities had known the identity of the kidnappers from the start.
Palestinian Prime Minister Ismail Haniyah also squashed speculation that the kidnappers had ties to foreign groups. Haniyah said kidnappers were from Gaza, and had no ties with Al-Qaeda.
The Hamas-led Palestinian Authority had insisted it had no clue about the identity of the kidnappers. However, in recent days, Hamas government officials signaled that the release of the journalists was imminent.
In the past two years, Palestinian militants have seized more than two dozen foreigners but released them unharmed within hours. The detention of the Fox News journalists was the longest.
Press Under Assault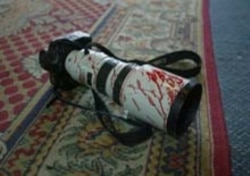 (AFP)
BREAKING THE NEWS: Press freedom is under assault in virtually all of the countries of the former Soviet Union. Independent media confront enormous challenges in providing citizens with the independent information that can help advance democratic reforms. On May 2, RFE/RL's Washington office hosted a roundtable briefing that gave an overview of media developments in the CIS and discussed the connections between press freedom and future democratization. The briefing featured Freedom House Director of Studies CHRISTOPHER WALKER, American University Associate Research Professor ROBERT ORTTUNG, and RFE/RL Central Asia analyst DANIEL KIMMAGE.
LISTEN
Listen to the entire briefing (about 90 minutes):
Real Audio Windows Media
RFE/RL's Press Freedom Day stories:
Iraq: Covering The Most Dangerous Beat On Earth
Afghanistan: Women In Journalism Battle Restrictions, Threats
Iran: State Maintains Tight Control Over Information
CIS: Press Freedom In Former Soviet Union Under Assault
Central Asia: Bureaucratic Obstacles Hinder Journalists
Central Asia: Governments Wary Of Independent Media
Central Asia: Journalists Still Face Harassment, Threats

THE COMPLETE STORY: To view an archive of RFE/RL's coverage of media-related stories, click here.
SUBSCRIBE
For regular news and analysis on media issues throughout RFE/RL's broadcast area by e-mail,
subscribe to "RFE/RL Media Matters."