One deputy demanded they be held accountable for what he called their heavy-handed antiterror policies in the country's south.
Addressing colleagues on the first day of the new Zhogorku Kenesh (parliament) session, ethnic Uzbek lawmaker Alisher Sabirov said he was concerned by reports of increasing violence in the south.
"Given that five 'terrorists' were recently murdered in [the city of] Jalal-Abad and another three in the city of Osh, people in southern Kyrgyzstan are wondering in which circumstances and on which grounds these people were physically eliminated," Sabirov said. "I support the fight against terror, but this fight should be conducted within the framework of the law and with due respect to human rights."
Sabirov was referring to the August 6 killing of Rafiq Qori Kamoluddin, a prominent ethnic Uzbek imam in the border town of Kara-Suu. He was killed with two other men during a joint Kyrgyz-Uzbek security operation.
Kyrgyz authorities initially described Kamoluddin as a wanted terrorist, before suggesting he may have been killed accidentally.
Also today, another lawmaker proposed that Kyrgyzstan's law enforcement agencies be reformed so they stop meddling in politics.
Kubatkek Boibolov said such changes should be "radical" enough so that the National Security Service becomes entirely "depoliticized."
(with material from 24.kg)
Hizb Ut-Tahrir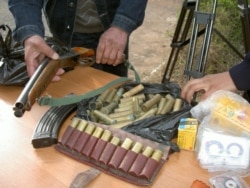 Arms and leaflets allegedly confiscated from Hizb ut-Tahrir members in Kyrgyzstan in May (RFE/RL)

ATTRACTIVE TO THE YOUNG: It is virtually impossible to estimate the size or composition of Hizb ut-Tahrir's membership in Central Asia, because the controversial movement is banned in most places. But some observers say anecdotal evidence suggests the group's core of younger members is growing....(more)
RELATED ARTICLES
Russia Approves List Of 17 'Terrorist' Groups
Extremist Threats, And Doubts, In Kyrgyzstan, Tajikistan
Hizb Ut-Tahrir's Calls For Islamic State Find Support
Hizb Ut-Tahrir Challenges Britian's Proposed Ban
Lone Islamic Party Pursues Dual Path In Tajikistan

A thematic webpage devoted to issues of religious tolerance in RFE/RL's broadcast region and around the globe.