Christie Parell, a White House spokeswoman, said the video, which was released on September 2, would be reviewed, and its authenticity verified.
Al-Zawahri and the American do not appear together in the 48-minute video. The American, who al-Zawahri identifies in the video as "Azzam the American," is wanted by authorities in the United States.
The FBI has identified the American as a 28-year-old Californian, Adam Yehiye Gadahn, who converted to Islam. He is wanted for questioning by the FBI for his role in terrorist activities.
(AFP)

Who Is Ayman al-Zawahri?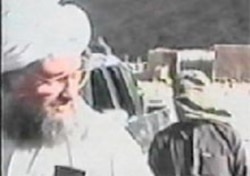 AYMAN AL-ZAWAHRI is regarded as Al-Qaeda's No. 2 authority. Although al-Zawahri is lesser known than Osama bin Laden, some observers say the deputy is just as powerful as the chief....(more)
See also:
Is Al-Qaeda Letter Sign Of Rift, Or Opportunity For Bush?