The statement by Nuri al-Maliki came two days after Kurdish leader Mas'ud Barzani ordered the Iraqi flag be replaced by the Kurdish flag in the north of the country.
Barzani said on September 3 that "the present flag is not the flag of Iraq, but of the Ba'ath party and of chemical strikes, the drainage of the marshes, the putting down of uprisings, and of mass graves," referring to the party of Saddam Hussein and to some of the crimes ascribed to the ousted Iraqi leader.
The move has heightened concerns that Kurds are pushing for secession under the nation's new federal system.
(AP, AFP, Reuters)

Iraq's Kurdish Region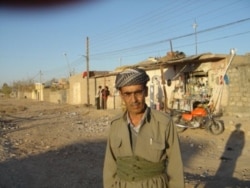 KURDISH AWAKENING: The ethnic Kurdish region in the northern part of Iraq has struggled in recent years to reestablish its cultural and political identity after decades of oppression under the regime of deposed Iraqi President Saddam Hussein. In December, RFE/RL correspondent Charles Recknagel traveled to this area and filed several reports:
Relative Peace Underscores Issue Of Kurdish Region's Future
Kurdish Culture Begins To Flourish In Kurdistan Region
Kurds Ponder How To Strengthen Autonomy After Elections