British Minister Criticizes Guantanamo Bay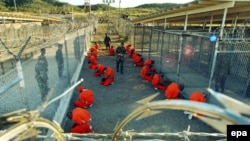 Detainees at Guantanamo Bay (file photo) (epa) September 13, 2006 (RFE/RL) -- Lord Chancellor Charles Falconer told BBC radio that the U.S. prison camp at Guantanamo Bay, Cuba, was "inconsistent" with principles of democracy.
Falconer, a close ally of Prime Minister Tony Blair and Britain's de facto justice minister, was interviewed before giving a speech in Australia.
There are about 450 inmates at the prison camp, most held there as "enemy combatants" since early 2002.
(AFP)