Italy Returns Orphan Girl To Belarus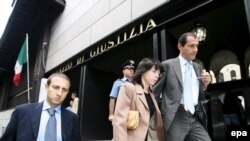 The Italian couple who hosted Viktoryya appearing in a Genoa court on September 15 (epa) September 30, 2006 -- Italian authorities have returned to Belarus a 10-year-old orphan whose case has divided Italy and strained relations between the two countries.
The Italian couple who hosted Viktoryya Moroz during the summer refused to return her, saying they believed she had been abused at an orphanage near Minsk.
They hid the girl, but police found her and on September 29 she was flown back to Belarus.
The girl had spent summers with the Italian couple for the past four years. She was one of thousands of Belarusian children who have treatment and holidays abroad under a program for children suffering the long-term effects of the 1986 Chornobyl nuclear disaster.
Belarusian authorities have denied the allegations of abuse in the orphanage, and had formally complained to Italian authorities about what they called a "deliberate abduction."
(belta.by, Reuters)