Leading French intellectuals have already compared the case of Robert Redeker to that of British writer Salman Rushdie 15 years ago. But Redeker's editors, unlike Rushdie's, are not standing by the embattled intellectual.
A day after Redeker's critical commentary appeared in "Le Figaro" on September 19, the newspaper's editor went on Arabic Al-Jazeera television to apologize, saying publishing the piece had been a mistake.
In Berlin, meanwhile, the head of the Deutsche Oper, the German capital's leading opera house, has cancelled an avant-garde Mozart production over security fears.
"If you curtail speech to do with offending religions or to do with offending anyone, you eventually end up with not having the right to speak at all about political matters, about social matters and so on."
The reason? Director Hans Neuenfels had added a controversial scene to Mozart's classical staging of "Idomeneo." In the scene, the hero King Idomeneo appears on stage carrying a bloodstained bag. From the bag, he pulls out, one by one, the decapitated heads of the Greek god Poseidon, then Jesus, then the Buddha, and finally the Prophet Muhammad.
The message, according to the atheist director, was meant to be that all religions are harmful.
The head of the Deutsche Oper, Kirsten Harms, said she could not take the risk of airing such a provocative message. The Berlin police had warned the opera house it could be targeted by extremists.
Self-Censorship A 'Mistake'
These cases, coming just after Pope Benedict XVI's controversial remarks on Islam last month, have once again put the issue of free speech, censorship, and religion at the top of discussions in Europe.
In the Berlin case, German politicians have criticized the head of the Deutsche Oper for canceling the controversial opera. Even Chancellor Angela Merkel stepped into the fray.
"It's my personal opinion that the [opera] cancellation is a mistake," she said. "I believe that self-censorship does not help curtail the spread of violence [and] people who, in the name of Islam, practice violence. And that's why it makes no sense to always yield -- rather, we should discuss the issue and -- I believe -- we should give our support to the press and media freedom."
Some members of the Muslim community, on the contrary, have welcomed the opera's cancellation.
Free Speech 'No Offense'
One thing is clear: the issue is not going to go away. European artists in decades and centuries past may have thought they had broken all the taboos. But religion, and how it should be treated, has once again become a central issue.
And that concerns many artists in Europe. One of them is English writer Lisa Appignanesi, who is deputy president of the English chapter of the PEN Club, which is leading a campaign called "Free Expression Is No Offense."
What is going on, Appignanesi says, is a struggle to maintain Europe's identity as a continent of liberal democracies where free expression is guaranteed.
"If you curtail speech to do with offending religions or to do with offending anyone, you eventually end up with not having the right to speak at all about political matters, about social matters and so on," she says."
Spreading Fundamentalism
Although Muslim fundamentalism tends to be highlighted in Europe as the main threat to secular Western societies, Appignanesi sees an ominous radicalization of religious forces across the board.
She cites a recent attack by Sikhs in Britain against a regional theater and periodic campaigns by fundamentalist Christians against material they deem offensive.
"Because of so-called terrorism and the war on terror, Islam seem to be further in the forefront and [some] people in the Muslim world -- as happened with the cartoons outside Europe -- are very keen to foment and to use these so-called offenses to Islam in the West as part of their political campaign against the West," Appignanesi says.
"But the radicalization through religion has happened in all the religions," she continues. "It's true of parts of Hinduism, parts of Christianity, parts of Islam, it's true of parts of Judaism. They've all become radicalized and incredibly territorial about what insults them."
Faith Is A Choice
Appignanesi says an important distinction has to be drawn between religion and race. Insulting or discriminating against someone because of their race, she says, is taboo in European democracies -- and rightly so. People do not choose their race.
That is why, for example, anti-Semitic acts carried out against Jews just because they are Jews, can be prosecuted.
But faith, she says, is different. It is a matter of choice and like art, philosophy and politics, it should remain open for discussion -- even at the risk of causing offense.
When it comes to Islam, however, Appignanesi says there is an attempt by some to blur the line.
"Nobody has passed laws which say you cannot criticize the religion of Judaism. The laws that are there are simply ones that talk about race," she notes. "The difficulty with Islam is that it isn't one race, so people have banded together behind the banner of religion. In fact, in Britain, where we have people of Muslim faith from many continents and many ethnicities, it's tricky."
Supporting The Gadflies
Ultimately, European free-speech advocates like Appignanesi say they are mounting their campaign not to protect a few atheist intellectuals, but society as a whole, including artists whose own religious communities are trying to censor them.
In this respect, Appignanesi says it is especially important for leading European cultural institutions like the Deutsche Oper, or newspapers like "Le Figaro," to support their gadflies.
"As soon as the management are saying to artists, writers, musicians: 'You mustn't touch this area,' then you're closing down the possibilities of the very people who want to say something about those areas -- most of whom come from these faiths -- from speaking about them," she says.
"So actually, the community itself is shutting up -- the Muslim community, or the Hindu community or the Sikh community -- they're shutting up their own imaginative people," she continues. "And usually they're shutting them up because a small group wants to keep the power -- a small, traditional, and conservative group -- wants to keep power over its young. This is certainly what's been happening here."
With both sides in this debate determined to prevail, how Europe resolves its free-speech dilemma remains up for grabs.
Politics, Religion, And The Press
Politics, Religion, And The Press
RFE/RL's Russian Service interviewed Volgograd Deputy Mayor
KONSTANTN KALACHYOV
and Union of Journalists General Secretary
IGOR YAKOVENKO
about the scandal around the closure of the Volgograd newspaper "Gorodskiye vesti."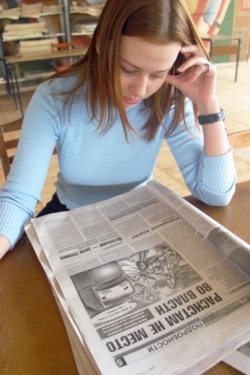 A Volgograd resident reads the controversial issue of "Gorodskiye vesti" (TASS)


On 17 February, RFE/RL Russian Service correspondent Lyubov Chizhova spoke with Volgograd Deputy Mayor KONSTANTIN KALACHYOV, who confirmed that he will resign over the city's decision to close down "Gorodskiye vesti."
RFE/RL: Can you describe why "Gorodskiye vesti" is being shut down and how?
Konstantin Kalachyov: The decision [to close down "Gorodskiye vesti"] was made by acting Mayor Andrei Doronin. It can be explained like this: since the newspaper is the official organ of the city administration, it should publish statements by the city administration and the very format of the newspaper should emphasize respectability. However, recently the newspaper has acquired a scandalous reputation. [Doronin] didn't see any other way of ending the scandal around "Gorodskiye vesti" and settling the problem of its reputation except for liquidating it. A decision was made, according to which the municipal enterprise "Gorodskiye vesti" must be liquidated. During that time, a new municipal newspaper will be created that will be politically correct and will not create excitement.
RFE/RL: Was the cartoon really just an excuse to close the newspaper?
Kalachyov: The acting mayor has declined to give his opinion of the caricature itself. He is proceeding from the overall situation around the publication. The acting mayor has decided to dismiss the editor in chief.
RFE/RL: Earlier you said that you would resign if the editor was fired.
Kalachyov: I will. I will not change my mind.
RFE/RL: Does your resignation change your view of the situation?
Kalachyov: Speaking as someone who does not represent the city administration, I can say that, from my point of view, there is nothing offensive in the cartoon. In fact, it was clearly motivated by noble aims. A depiction of the Prophet Muhammad in a secular newspaper by a non-Muslim artist cannot be forbidden by anyone. In the final analysis, we must respect the rights of representatives of all confessions and atheists as well. And journalists too -- we must respect the freedom of the press. All of this is an artificially inflated scandal that, unfortunately, shows how far we are from tolerance and acceptance.
RFE/RL: What will become of the journalists who work for "Gorodskiye vesti"?
Kalachyov: Up until now, I had been saying that I would do everything I could to see that the journalists did not suffer and that all of them were taken into the staff of the new newspaper. Now I can't say anything concrete. My position is very simple -- the crime does not correspond with the scale of the punishment. I am against any repressions directed against the newspaper's staff.
RFE/RL: Has the newspaper had problems with the city administration before?
Kalachyov: I personally hired the editor in chief and asked her to make the newspaper popular in the city. The paper's circulation -- 10,000 -- was, I thought, inadequate. Until recently, the newspaper was rather dull and very official.
On 17 February, RFE/RL Russian Service correspondent Lyubov Chizhova spoke with IGOR YAKOVENKO, general secretary of the Russian Union of Journalists. Yakovenko said that the decision to close "Gorodskiye vesti" had nothing to do with the global furor over cartoons depicting the Prophet Muhammad.
RFE/RL: What is behind the decision to close "Gorodskiye vesti"?
Igor Yakovenko: You see, there was unprecedented pressure from the federal authorities. There was the completely scandalous statement by several leaders of the Russian parliament who claimed the religious sensibilities of believers -- including their own religious sensibilities -- were offended by what had been published in the Volgograd newspaper. But not one believer -- not one Muslim, not one person in Volgograd Oblast said their sensibilities had been offended. However, the prosecutor-general was terribly offended. [First Deputy Duma Speaker Lyubov] Sliska was offended. [Mediasoyuz Vice President and Public Chamber member Yelena] Zelinskaya was very offended. That is, we have some very sensitive believers with very sensitive and easily wounded feelings -- in the Prosecutor-General's Office and in the State Duma. Religious people looked at the situation with sympathy, with understanding, said there was nothing wrong with the cartoon. What is happening now shames Russia. It is a universal shame for Russia, since not a single European government has reacted as shamefully as the Russian authorities have. Not a single European government has taken any repressive measures against the press because they perfectly well understand that there is no direct connection between the hysteria we've seen in many countries around the world and cartoons or the Volgograd caricature. [Acting Chechen Prime Minister] Ramzan Kadyrov doesn't read Danish newspapers and he hasn't seen this cartoon. There is no connection, no believers' feelings have been hurt. This is entirely on the political level.
RFE/RL: Are you going to do anything in defense of "Gorodskyie vesti"?
Yakovenko: Of course. It is very difficult to do anything because it is a state newspaper. The city administration, which came under pressure from the presidential administration and the Prosecutor-General's Office, simply liquidated a newspaper that it owned. We, of course, will do everything we can to get the editor in chief reinstated. If we have to, we'll find work for the editor and for that artist who drew the cartoon. But, unfortunately, we are talking about the state press and the state has dealt with it in the way it considered necessary. It is a completely obscene story. We are trying to do what we can to defend the journalists. And, of course, we will do everything to block any stupid laws restricting freedom of speech because -- in reality -- there are two constitutional principles at stake here: the secular nature of our state and freedom of the press. No one is inflaming anything. It is just that some politicians consider it important to restrict the press, while others think it is important to collect some political capital for themselves out of this whole story.