PRAGUE, October 5, 2006 (RFE/RL) -- The Tajik Central Election Committee announced on October 4 that President Rakhmonov has already handed in the required amount of signatures to be registered as a candidate in November's presidential election.
According to election regulations, candidates must gather signatures from 5 percent of eligible voters in the country, meaning each presidential hopeful needs 160,000 signatures. Rakhmonov reportedly had more than 510,000.
"In the countries of Central Asia they have their own democracy and mentality and every election in this region differs from what is happening in European countries. Therefore, the election in Tajikistan will be held according to Tajik standards."
A Foregone Conclusion?
Only one other candidate of the five who intend to compete against Rakhmonov has thus far gathered the necessary amount of signatures -- Olimjon Boboev of the Party of Economic Reform.
The process of verifying those signatures will continue until October 12, but some feel the effort is a waste for Rakhmonov's opponents. One of them, Saimuddin Dustov, is the chairman of the Information Center for Democracy and National Progress, who made the following comment during the roundtable discussion.
"Analysis shows that today the opposition political parties of Tajikistan do not have the strength to compete for power in Tajikistan and the upcoming elections will lack much enthusiasm because it will be an obvious victory for Rakhmonov," he said.
Many analysts have pointed out the general weakness of Tajikistan's opposition parties. Independent Tajik political analyst Saidahmat Qalandar said Tajikistan's opposition parties have failed to use the seven years since the last presidential elections to strengthen their positions.
Opposition Called Weak
"These still young and inexperienced parties and movements have had opportunities during the last seven years to present figures equal to [Tajik President] Rakhmonov, but this has not been done," he said. "[Our] society does not know its leaders."
In addition, some potential opposition leaders such as Mahmadruzi Iskandarov, Ghaffor Mirzoev, and Yakub Salimov are currently serving jail terms under criminal charges that supporters describe as trumped up.
Said Abdullo Nuri, the leader of the Islamic Renaissance Party of Tajikistan (IRP), was extremely well known in Tajikistan. But Nuri died in August, leaving a leadership crisis in his party. The IRP announced in September that it would not field a candidate in this presidential election.
IRP member Zarafo Rahmoni was at the roundtable and conceded that Rakhmonov's popularity makes him practically unbeatable in the November election.
"The president of Tajikistan...can count on his popularity in society," she said. "All the movement and progress that has been made is related to the president. [Rakhmonov's] popularity lies in this."
Ashurboy Imomov is the chairman of the Social Committee for Democratic Process and a law professor. He is also a former chairman of Tajikistan's Constitutional Court. He said legislation has been approved that helps Rakhmonov stay in office.
Constitutional Help
Amendments to the constitution in 2003 gave Rakhmonov the chance to run for two more terms in office, meaning he could be Tajikistan's president until 2020. But Imomov warned that the country could find it difficult to replace Rakhmonov if circumstances arose that required a new leader.
"Here I see one deficiency in democracy [in Tajikistan]," he said. "It is that when a society places a leader on a pedestal, this leader believes that there is no one else but him and that society cannot name another leader."
There are also those who feel the upcoming election, like those before them, simply cannot be fair. One such person is Dodojon Atovullo, a veteran opposition figure who is the editor of the opposition newspaper "Charoghi Ruz." Atovullo's extremely vocal opposition to Rakhmonov has forced him to live in self-imposed exile in Moscow for years, but he keeps in touch with events in Tajikistan and participated in the roundtable via telephone. Atovullo said there are currently no conditions in Tajikistan that would give any hope that there will be a free and fair election next month.
"I don't believe that in Tajikistan it is possible to have free elections because we know how earlier elections were conducted under [Tajik President] Rakhmonov," he said. "And what kind of presidential election can we speak of in a country where there is no freedom, no freedom of speech; where political parties cannot work freely and where the people are not free?"
Abdulloh Qodiri is the head of the Tajik president's center for strategic research. Qodiri said one should not compare the upcoming election to polls held in Western democracies, but rather admit that democracy in Central Asia is unique.
"In the countries of Central Asia they have their own democracy and mentality and every election in this region differs from what is happening in European countries," he said. "Therefore, the election in Tajikistan will be held according to Tajik standards."
Complaints, criticisms, and comments on the campaigning and the election are inevitable during the next month. For one thing, there have never been more than two candidates running in a Tajik presidential race, and the current field of six will certainly be reduced during the verification of signatures and other registration formalities. That will bring comments from the disqualified candidates and their parties but it is not very likely to affect the outcome, which seems to be a foregone conclusion.
(Salimjon Aioubov of RFE/RL's Tajik Service contributed to this report.)
Tajikistan's Presidential Election
Tajikistan's Presidential Election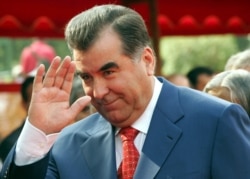 Imomali Rakhmonov has ruled Tajikistan since 1992 (epa file photo)


A THIRD TERM? On November 6, Tajikistan will hold its first presidential election since 1999. Incumbent President Imomali Rakhmonov is seeking a third term under controversial constitutional amendments adopted in 2003. The opposition has accused Rakhmonov's administration of using dirty tricks and legal pressure to split and weaken opposition parties. Most observers believe the November ballot will be less competitive than the 1999 election.
RELATED ARTICLES
Islamic Party Opts Out Of Presidential Vote
Opposition Disorganized As Presidential Election Nears
Lone Islamic Party Pursues Dual Path To Challenge Incumbent
Fractured Opposition Faces Uphill Battle Before Election
ARCHIVE
RFE/RL's
coverage of Tajikistan
. An RFE/RL web special on
Tajikistan's 2005 legislative elections
.
SUBSCRIBE
For weekly news and analysis on all five Central Asian countries by e-mail,
subscribe to "RFE/RL Central Asia Report."