Bosnian Mosque Attacked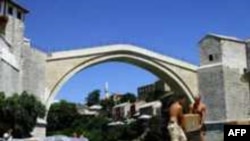 Mostar's famous bridge, destroyed during the war and now fully restored (AFP) October 10, 2006 -- A mosque in a suburb of the city of Mostar in southern Bosnia-Herzegovina was badly damaged early on October 10 by a rocket-propelled grenade.
Police said they are investigating the attack in Jesenice, but did not reveal further details.
Mostar remains ethnically divided between Bosnian Croats, who control the western part of the city, and Bosnian Muslims on the eastern side.
(dpa)