The tour -- by bus, plane, and car -- provides an unusual chance voters to meet with the presidential hopefuls as they make their way from east to west across Tajikistan.
The candidates first traveled to Gorno-Badakhshan, a remote mountainous region wedged between Afghanistan and China. RFE/RL's Tajik Service took an opportunity to speak with some of the candidates and voters as they moved through the nearby district of Rasht.
"To keep experienced teachers and specialists in schools, there is a need for better salaries," one Tajik told RFE/RL. "And we wanted to ask candidates what they would do to increase the salaries of teachers."
Communist Party candidate Ismoil Talbakov stressed the need for the state to provide necessities to the people, in this case increasingly unaffordable housing.
"The housing issue in Tajikistan is in deep crisis," Talbakov said. "We cannot say that there has been no progress in housing. But houses that are being built in the cities now cost from $50,000 to $300,000. Is it possible for our people on a monthly salary of 60, 70, or 100 somonis [$20, $23, or $33]? Can anyone afford to buy such a house?"
Realizing that Rasht, and eastern Tajikistan in general, is rural country, Talbakov tailored his message to local interests, of course.
"Look at the villages," Talbakov told voters at one gathering. "They build homes, but the homes are built only for some 10 to 15 percent of village inhabitants. The rest have no such opportunity. So that is why if the Communist Party wins, we would prepare a housing program."
Socialist Party candidate Abduhalim Ghafforov pledged loans and reform of the banking sector to make credits more widely available.
"Today, our banks work like bureaucrats, and not everyone can receive some privileged credits from the bank," Ghafforov said.
The Agrarian Party's Amir Karakulov has emphasized the need to halt exports of raw materials and switch to the production and export of finished products.
The Party For Economic Reform's Olimjon Boboev is campaigning a pledge of genuine economic reform. Boboev argues that the current structure of the economy cannot support reforms backed by the current president and says a more realistic approach is needed.
Voter Sentiment
Asked to comment on the campaign tour, voters interviewed by RFE/RL suggested the presidential hopefuls have not addressed the most pressing problems.
"I was interested in listening to how the candidates themselves plan to fight regionalism," said Mirzoshoh Akobir from the Rasht area. "What is their program? Because we are one nation, but regionalism has always enflamed [enmity among] us."
Abdulaziz Hojiyev, a teacher from Rasht who tried unsuccessfully get into the packed meeting house, said better pay was his priority issue -- especially since most teachers make between $20 and $30 per month.
"To keep experienced teachers and specialists in schools, there is a need for better salaries," Hojiyev said. "And we wanted to ask candidates what they would do to increase the salaries of teachers."
Unfair Fight?
Critics -- many of whom think President Rakhmonov already has the race sewn up -- have complained that the campaign tour serves no useful purpose and is in fact being manipulated to great effect by the president.
Rahmatullo Valiev is acting chairman of the Democratic Party of Tajikistan, whose leader is in jail and which is thus sitting out the election. Valiev claims state television is manipulating its coverage of the candidates' tour to serve the interests of President Rakhmonov.
"After these meetings, Tajik television shows people from these regions and interviews them," Valiev said. "The people say, 'We already have our president,' and one person speaks for the entire district."
The tour next moves to the northern Soghd region. RFE/RL asked voters there what they hoped for from the next president.
The responses suggested apathy, echoed by one woman who said simply, "I don't know and I don't care."
After its swing through the Soghd region in the north, the tour concludes in the southern Khatlon region on October 30-31.
The candidates will have another, wider opportunity to reach out voters. Each aspirant will get 30 minutes on state television to explain his platform to voters before the November 6 election.
All Together Now
The idea of presidential rivals traveling together is unprecedented in Central Asia.
Security remains a concern nearly 10 years since the end of the country's bloody civil war.
But beyond being able to provide common security for all the candidates, bringing them together appears aimed at preempting any accusations that they were not granted fair access to the electorate. Put another way, each candidate has the same opportunities to meet with voters.
Aside from the incumbent, of course, whose 14-year reign as head of state looks set to continue.
(Iskander Aliev of RFE/RL's Tajik Service contributed to this report.)
Tajikistan's Presidential Election
Tajikistan's Presidential Election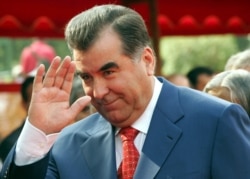 Imomali Rakhmonov has ruled Tajikistan since 1992 (epa file photo)


A THIRD TERM? On November 6, Tajikistan will hold its first presidential election since 1999. Incumbent President Imomali Rakhmonov is seeking a third term under controversial constitutional amendments adopted in 2003. The opposition has accused Rakhmonov's administration of using dirty tricks and legal pressure to split and weaken opposition parties. Most observers believe the November ballot will be less competitive than the 1999 election.
RELATED ARTICLES
Islamic Party Opts Out Of Presidential Vote
Opposition Disorganized As Presidential Election Nears
Lone Islamic Party Pursues Dual Path To Challenge Incumbent
Fractured Opposition Faces Uphill Battle Before Election
ARCHIVE
RFE/RL's
coverage of Tajikistan
. An RFE/RL web special on
Tajikistan's 2005 legislative elections
.
SUBSCRIBE
For weekly news and analysis on all five Central Asian countries by e-mail,
subscribe to "RFE/RL Central Asia Report."