And the problem remains acute in parts of Russia, Central Asia, the Caucasus, and other areas of the former Soviet Union.
Ten years ago at the World Food Summit (WFS), the international community pledged to reduce by half the number of people suffering from undernourishment.
While that goal has not been reached, progress has been made in some areas, according to the FAO's annual report, "The State Of World Food In Security."
In many cases, war, conflict, and political and economic instability with ensuing problems of refugees and displaced persons have contributed to rising hunger levels.
Goals Not Being Met
The report was released today in Rome, where representatives from over 120 countries are meeting at FAO this week. Meeting participants will review progress on hunger with regard to pledges made at the 1996 WFS and in the UN's Millennium Development Goals, set out in 2000.
"We are facing a big challenge," says Margarita Flores, head of the FAO's Committee on Food Security. "The fight against hunger has not been as successful as we were expecting. In fact, that's the main question for us in this meeting: to discuss what is indeed, what is the commitment that should be [made], where do we as the FAO support governments; but mainly, how policies implemented by governments will make a difference."
According to the report, progress on reducing hunger has been uneven in countries of the Commonwealth of Independent States (CIS).
The report says the region is home to an estimated 21 million undernourished people, but their distribution varies widely.
A Varied Picture Across The CIS
For example, in Belarus, Russia, and Ukraine, 3 percent of the population is considered to be undernourished -- positive figures compared to many other CIS countries.
On the opposite end of the spectrum is Kazakhstan, which registered the largest relative increase since the early 1990s. But by far the most serious situation is in Tajikistan and Uzbekistan, which have both seen a serious worsening of food security.
In Tajikistan, 61 percent of the population is not getting enough to eat. That's up from 22 percent during the period from 1990 to 1992. In Uzbekistan, 26 percent of people are hungry. Yet in the early 1990s, just 8 percent of Uzbeks faced hunger.
Flores says feeding more people requires concerted efforts to tackle poverty in rural areas, where more than half the population in Tajikistan and Uzbekistan live.
"[There's been] a reduction of poverty in the rural areas and increasing the poverty in urban areas," Flores says. "That means there's a migration of the poor people to the cities. So we need to solve the problem in the rural areas."
Success Stories
Other CIS countries, however, have made progress in meeting food-security goals.
The most successful are Azerbaijan, Georgia, and Kyrgyzstan. Those countries, while starting with a high prevalence of hunger, have now cut the number of undernourished peopled by at least two-thirds.
For example, in the early 1990s, more than a third of Azerbaijan's 7.7 million people were undernourished. Now, it's 10 percent.
In Georgia, 44 percent of the people were hungry, but that number has been reduced to 13 percent.
In Kyrgyzstan, one-fifth of the country's 4.5 million people were hungry in the early 1990s. Now, it's down to just 4 percent.
Kostas Stamoulis, the head of the agricultural and economic development unit at the FAO, explains why these countries have had success in alleviating poverty.
"First of all, overall growth was a significant factor that brought about reductions in overall poverty and hunger," Stamoulis says. "Sustained development. And then, I believe that in Azerbaijan and Georgia, which are two of the countries that the report looks at a little bit more closely, [success is due to] the economic reforms, which were reflected also in agriculture, [in particular] in taking steps toward the privatization of land and the granting of titling."
Armenia has also made progress, but hunger remains high.
In 1993-95, Armenia had the highest prevalence of undernourishment (52 percent) in the region. Now, it has halved its number of hungry, but at 29 percent of the population it remains high.
Latvia, Russia, Slovenia, and Turkmenistan have made strong progress, though they have yet to meet the target. In Russia, 4 percent of people suffered from hunger in the early 1990s. Now, it's 3 percent.
In Moldova, the percentage of hungry people has more than doubled since the early 1990s, from 5 percent to 11 percent. Similar increases were noted in Serbia and Montenegro.
Many Factors At Play
The FAO report says many factors influence progress or setback on hunger reduction.
In many cases, war, conflict, and political and economic instability with ensuing problems of refugees and displaced persons have contributed to rising hunger levels.
That's the case in Armenia, Azerbaijan, Georgia, Moldova, Russia, and many Balkan countries. Natural disasters -- such as drought in parts of Armenia, Azerbaijan, Georgia, and Moldova -- have also played a role.
Stamoulis says that in the CIS the role of agriculture is key.
"One of the differences of this region, these transition countries, with the traditional developing countries is the role of agriculture," Stamoulis says. "Overall, the region is not as dependent on agriculture as some other regions. However, for some of the countries where the problem of food insecurity is prevalent, agriculture is still extremely important. So the proper strategy in a lot of cases means an agricultural and rural development strategy."
The report also more generally blames food insecurity on weak economic development resulting from bad government policies as well as the breakdown of social safety nets following the dissolution of the Soviet Union.
(RFE/RL's Luke Allnutt contributed to this report)
An Increasingly Thirsty World
An Increasingly Thirsty World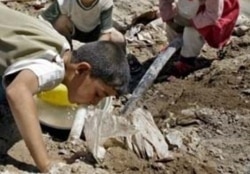 An Iraqi boy drinks from a waste-water reservoir near Baghdad (epa file photo)

A MATTER OF LIFE AND DEATH. Disputes about access to water are increasingly coming to the center of global attention, especially in China, India, and Central Asia. Writing about the 1967 Six Day War in his 2001 memoirs, Israeli Prime Minister Ariel Sharon said that "while border disputes between Syria and ourselves were of great significance, the matter of water diversion was a stark issue of life and death." (more)
RELATED ARTICLES
Tibetan Water Plans Raise Concerns
Environmentalists Say China Misusing Cross-Border Rivers
China's Economic Boom Strains Environment
Nature Waits For Cross-Border Sanctuaries To Catch On
Overused Rivers Struggle To Reach The Sea
UN Water Report Takes A Hard Look At Central Asia
Irrigation, Pollution Threaten Central Asian Lakes


THE COMPLETE STORY: Click on the icon to view a dedicated webpage bringing together all of RFE/RL's coverage of Kazakhstan, Kyrgyzstan, Tajikistan, Turkmenistan, and Uzbekistan.