Blair said he was hopeful that the United States is becoming more ready to confront the threat.
Germany is due to take an international lead in combating climate change when it takes over the presidencies of the Group of Eight industrialized states (G8) and the European Union in January.
Merkel and Blair said they are ready to work together to tackle climate change.
Blair, whose government endorsed a
recent report
led by former World Bank chief economist Sir Nicholas Stern on the potential economic impact of global warming, said there would be a chance to make progress on the issue when Germany takes over the presidencies of the G8 and the European Union.
"We have concentrated in our discussions very much on the upcoming German presidency of the G8 and the European Union," Blair said. "And in particular, we started with a very good, a very constructive conversation on climate change and the shared interest of both our countries in making progress in this issue, particularly after the publication of the Stern report earlier this week. It is important that we do everything we can in order to create the right framework for an international agreement on this issues."
Stern's climate-change report said that combating global warming would cost the world about 1 percent of its combined economy, just 1/20th the projected cost of failing to act soon.
The Kyoto Protocol, a United Nations plan for curbing emissions of greenhouse gases thought to cause global warming, runs out in 2012. Officials from 189 countries will hunt for new ways to fight climate change at UN talks in Kenya next week.
Blair said he believed the United States, which has not ratified the Kyoto Protocol, could be persuaded to acknowledge the need for an international agreement on climate change.
Merkel said that climate change "is the biggest challenge of the 21st century" and that Europe has a chance to take a leadership role in global efforts.
Speaking at a joint news conference in Downing Street after the talks, Merkel also said that the Stern report should act as a "wake-up call." She said there is "no real compatibility" with German efforts to tackle climate change and existing EU rules. Instead, Merkel said "Europe-wide instruments" are needed.
"I think we need a lot of stimuli and possibly European-wide instruments in order not to get contortions on the economic side which punishes the wrong people," Merkel said. "And therefore I think it's a very interesting discussion, but we are far from limiting this issue to taxes alone."
Global Climate Change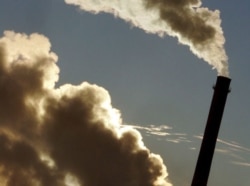 View a photo gallery summarizing some key findings of the Stern report on the economic costs of global warming (epa)

THE STERN REPORT: In October, former World Bank chief economist Sir Nicholas Stern issued a 700-page report on the economic impact of global warming. The report, which was commissioned by the British government, estimates that climate change could cost between 5 and 20 percent of global GDP by the end of the century....(more)
RELATED ARTICLES
Siberia's Once Frozen Tundra Is Melting
Blair Highlights Global-Warming Concerns
Scientists Argue About Need For Urgent Action
ARCHIVE
RFE/RL's
coverage of the environment
.