Who is Borat? He's a fictional Kazakh television reporter created by British comedian Sacha Baron Cohen, who has acquired almost a cult following in the English-speaking world. Borat's ill-fitting clothes, his outlandish way of speaking English, his racist and sexist behavior border on the verge of absurdity.
"What we hope is for the movie to draw a greater interest to the real Kazakhstan, which has a lot of things that the Americans may benefit from knowing them," a Kazakh Embassy official said.
In the movie, "Borat: Cultural Learnings Of America For Make Benefit Glorious Nation Of Kazakhstan," Borat Sagdiyev travels across the United States and has a lot of strange encounters with typical Americans. While the Kazakh authorities have expressed offense at Borat's boorish ways, film critics say Borat's hilarious "learning" of the United States rather points toward Americans' own prejudices and isolationism.
Getting To Know Each Other
Cohen has never been to Kazakhstan. And neither have most Americans, many of whom have only a vague idea, if any, of where it is located. An informal street poll conducted by RFE/RL on the streets of Manhattan revealed that New Yorkers' knowledge of Kazakhstan, is, well, limited.
The "native" Kazakh scenes in Borat's movie were actually shot in rural Romania and emphasize the "backwardness" that supposedly should be associated in the mainstream Western consciousness with Kazahstan.
Kazakhstan's inhabitants in Borat's movie drink horse urine, enthusiastically participate in a celebration called "the running of the Jews," and make cheese from human milk.
Laughing At Americans
Almost no group is spared offense in the movie. And Americans themselves are the butt of many jokes.
Borat's exploration of the United States involves encounters with many average people who were tricked into participating in the movie on the presumption that they were being interviewed and filmed by a real Kazakh journalist.
It leads to some bizarre encounters. In one episode, Borat is invited to a rodeo. He uses the opportunity to grab the microphone and praise the United States to increasingly ridiculous extremes.
"May your warlord George Bush kill the terrorist men, women, and children, and drink their blood," he intones.
In another sequence, Borat insults everyone at a fancy dinner party.
"The New York Times" has predicted the movie will be a hit with American audiences.
During Kazakh President Nursultan Nazarbayev's visit to the United States in September, Borat appeared at the gates of the Kazakh Embassy in Washington with a bunch of [real] reporters and said that he wanted to talk to Roman Vassilenko, the embassy's press secretary, calling him an "Uzbek impostor."
The Kazakh Reaction
It was another one of Borat's publicity-seeking pranks. Vassilenko tells RFE/RL that initially the authorities in Astana were upset by the Borat phenomenon. But now, he says, they have become more relaxed, realizing Borat is not really satirizing Kazakhstan.
"The reaction [of the Kazakh government] did evolve and the reaction evolved because people in responsible positions are becoming more aware of what the character [Borat] is really about," Vassilenko says. "And what I mean is that those who have seen the movie have a very different position about Kazakhstan from those who are basing their position on just hearsay. As more and more people become aware of what the actual movie is about and as they understand that this is a satire and especially a satire which is not directed at Kazakhstan but at a very different country. And Kazakhstan basically is just an artistic ploy."
Kazakhstan has spent a lot of money to try to boost its image abroad in recent years. The government has taken out promotional ads in major U.S. and European newspapers, portraying Kazakhstan as a vibrant, modern country.
Nazarbayev son-in-law and Kazakh Deputy Foreign Minister Rakhat Aliev has said the comedian should visit Kazakhstan to see what the country is really like.
Asked whether there is a chance that Cohen may be denied a visa should he apply, embassy spokesman Vassilenko said this is unlikely.
Students in Almaty recently voiced their opinions about Borat's portrayal of Kazakhstan.
"He has never been in Kazakhstan and has nothing to do at all with Kazakhstan, and does those things out of Kazakhstan, insulting Kazakhstan and its nation," one male student told RFE/RL. "I am sure there is something bigger than satire behind all that."
"In his programs, he shows Kazakhs as a wild and savage nation," said another. "You can watch it as a show of course. But shows are different. What he says there is probably based on some information he heard, but he never was here. That might be true information and wrong information too. But I think that it is wrong to present us in a wrong way to the world. It must be stopped."
Looking At The Bright Side
Vassilenko hopes that Borat's movie will actually have some positive impact on U.S. audiences.
"What we hope is for the movie to draw a greater interest to the real Kazakhstan, which has a lot of things that the Americans may benefit from knowing them," he says.
Vassilenko says it is up to the private movie-distribution companies in Kazakhstan to decide whether to show the film there. He added that the Cultural Ministry would not interfere with them.
(RFE/'RL's Kazakh Service contributed to this report)

Central Asian Cinema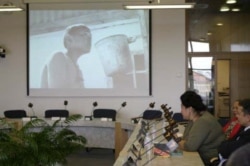 Gulnara Abikaeyeva's June 29 presentation in Prague (RFE/RL)
EAST OF THE WEST:
On June 29, RFE/RL's Prague broadcasting center hosted a presentation by
GULNARA ABIKEYEVA
, director of the Central Asian Cinematography Center in Almaty, Kazakhstan. Abikeyeva is a leading expert on Kazakh and Central Asian cinema, a chairwoman of the jury of this year's East Of The West section of the Karlovy Vary film festival. Abikaeyeva gave an overview of major trends in Central Asian cinema since the 1960s. Abikeyeva has just completed a major DVD collection of the most popular films of the five Central Asian countries and is now beginning work on a similar collection of Central Asian documentaries.
LISTEN
Listen to the complete presentation (45 minutes):

Real Audio
Windows Media
Other Articles On Central Asian Culture:
Silk Road Revival Grows As More Sites Protected
Central Asian Directors Discuss Issues Behind The Camera
Ancient European Music Meets Central Asian Masters
Central Asian Masters Revive Old Ways Of Teaching Traditional Music
ARCHIVE
To view an archive of RFE/RL's reporting on culture throughout its broadcast area, click here.


THE COMPLETE STORY: Click on the icon to view a dedicated webpage bringing together all of RFE/RL's coverage of Kazakhstan, Kyrgyzstan, Tajikistan, Turkmenistan, and Uzbekistan.