Serb Nebojsa Radmanovic, Croat Zeljko Komsic, and Muslim Haris Silajdzic will stay in their post for the next four years.
Radmanovic is to chair the new Presidency in its first eight-month rotation. Political parties are still negotiating possible coalitions before forming the parliamentary assembly and the central government.
(dpa)
Bosnia's General Elections
Bosnia's General Elections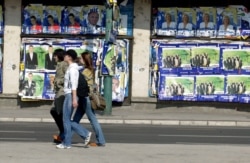 Election posters in Sarajevo on September 30, the day before Bosnians went to the polls (epa)
A DEEPLY DIVIDED LAND.
Bosnia-Herzegovina goes to the polls deeply divided after months of tough campaigning exposed wounds still raw from the 1992-95 war among Serbs, Croats and Muslims.
Some 2.75 million Bosnians are registered to vote for a tripartite presidency and central parliament, choosing from 36 parties, eight coalitions, and 12 independent candidates.
Voters will also choose deputies for the two autonomous regions, electing a new president, vice-president and parliament in the Republika Srpska and deputies for the assemblies of the Muslim-Croat federation and its 10 cantons.
Most Muslim parties advocate the abolition of both regions, claiming the Republika Srpska was founded on ethnic cleansing and that Bosnia can never become a viable state if one half demands a separate identity.
Croat parties want effective protection of their distinct rights, with some tentative calls to create a third entity.
Most Republika Srpska parties stand for preserving autonomy and oppose the creation of a single police force, a key European Union demand for advancing Bosnia's membership bid.
SOURCES: International Institute for Middle East and Balkan Studies, UN Development Program, Reuters
ARCHIVE
RFE/RL's coverage of
Bosnia-Herzegovina
and
Republika Srpska
.
SUBSCRIBE
For a regular review of politics, media, and RFE/RL broadcasts in the western Balkans,
subscribe to "RFE/RL Balkan Report."