RFE/RL:
The report singles out problems with the irrigation systems of Central Asia. Would you explain what exactly is wrong?
Timothy Scott:
One thing about Central Asia is that it has one of the world's most expansive irrigation systems. And this is really one of the legacies of the Soviet period, when they worked very hard to generate maximum short-term revenues from the agricultural sector, particularly the cotton sector, at the cost of the environment. And they did this [through] this massive irrigation system. The system's collapse now is holding back human development and reinforcing poverty.
This is really the main message of our report -- the real issue is not one of scarcity but rather of politics and the political will to manage the limited water resources that we have more effectively.

RFE/RL:
What do you mean by "collapse"?
Scott:
One of the challenges that the system is facing relates to infrastructure and the inefficiency of the system. For example, in some of the river basins, less than 40 percent of the water that's being diverted from the rivers ever reaches the [agricultural] field. In some parts, salinization has increased by more than 50 percent in the past decade, and rising groundwater now poses a huge threat to agriculture.
And what this means is that this inefficiency is generating huge losses, [and] not just losses in terms of human development. Central Asian countries are losing an estimated $1.7 billion every year just due to this irrigation mismanagement.
RFE/RL:
Would you talk a bit about regional cooperation on water issues? I imagine that in this part of the world, what one country does with its water supply has ripple effects for its neighbors.
Scott:
Weak regional cooperation has been another problem. The rural livelihoods that depend on irrigated water across the region are linked to these shared river systems, and so enhanced cooperation in the region and beyond is vital to recovery. This means not only in the five main countries of Central Asia but also other neighboring countries, such as China and Afghanistan, whose own demands on scarce water resources in turn have an impact on the scarce resources in Central Asia.
RFE/RL:
What are the obstacles to greater cooperation on water issues?
Scott:
There are really four main challenges that need to be addressed. The first is relating to competing claims for water and perceived national-sovereignty imperatives. Another issue is weak political leadership and vision. There are asymmetries in power and the negotiations that take place within and across the Central Asian states. And, of course, nonparticipation in some of these international water-basin initiatives is another challenge that needs to be overcome.
RFE/RL:
You mentioned earlier that water problems can reinforce poverty. How does that work?
Scott:
Of course, the links are very direct. Perhaps one of the world's most visible examples is the Aral Sea. Sixty years ago, the Aral Sea was one of the world's...largest freshwater lakes. Because of poor decisions made in terms of regional cooperation and sustainable agriculture, the lake has now shrunk in size to just a quarter of its original size.
At the same time, this has had a huge effect on the livelihoods around the lake in many different ways. What used to be a thriving local fishing economy has been devastated. The agriculture economy that took its place is no longer efficient and is in turn no longer able to support the local economy. And perhaps even more important, there have been devastating health effects. The water in the lake is now contaminated.

RFE/RL:
It is fair to say that your overall message is that the water problems in Central Asia are not caused by true scarcity but by mismanagement?

Scott:
Of course, in some parts of the world there is a scarcity of water, especially with growing climate change. But at the same time -- and this is really the main message of our report -- the real issue is not one of scarcity but rather of politics and the political will to manage the limited water resources that we have more effectively.
An Increasingly Thirsty World
An Increasingly Thirsty World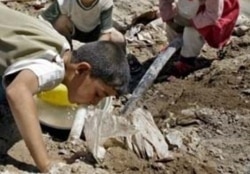 An Iraqi boy drinks from a waste-water reservoir near Baghdad (epa file photo)

A MATTER OF LIFE AND DEATH. Disputes about access to water are increasingly coming to the center of global attention, especially in China, India, and Central Asia. Writing about the 1967 Six Day War in his 2001 memoirs, Israeli Prime Minister Ariel Sharon said that "while border disputes between Syria and ourselves were of great significance, the matter of water diversion was a stark issue of life and death." (more)
RELATED ARTICLES
Tibetan Water Plans Raise Concerns
Environmentalists Say China Misusing Cross-Border Rivers
China's Economic Boom Strains Environment
Nature Waits For Cross-Border Sanctuaries To Catch On
Overused Rivers Struggle To Reach The Sea
UN Water Report Takes A Hard Look At Central Asia
Irrigation, Pollution Threaten Central Asian Lakes


THE COMPLETE STORY: Click on the icon to view a dedicated webpage bringing together all of RFE/RL's coverage of Kazakhstan, Kyrgyzstan, Tajikistan, Turkmenistan, and Uzbekistan.