At a news conference in Bishkek, Madumarov said the MTRK television channel must remain untouched.
"If there is a state, then it has to have a face, and this face should be [MTRK]," Madumarov said. "If [they] want to have a public television, they have plenty of other options. Kyrgyzstan holds a record with regard to the number of media outlets. If they want to set up a public television channel it's alright, they can do it on the basis of [private television channels such as] Piramida, NTS, or KOORT. It's up to them to decide."
Opposition lawmaker Melis Eshimkanov brushed aside Madumarov's comments, saying the new constitution that was passed amid street protests and signed into law on November 9 gives parliament the right to bypass President Kurmanbek Bakiev on the issue.
Bakiev vetoed an opposition-backed bill on September 5 that sought to turn MTRK into a public broadcaster.
Under that bill, the new channel would have been managed by a board made up of an equal number of presidential appointees, parliament appointees, and representatives of civil society.
Madumarov said on November 14 that Bakiev has signed a decree setting up a supervisory board for MTRK. That board will comprise representatives of the president, the parliament, and MTRK itself.
Making state television public has been a longtime demand of the opposition, which held a weeklong protest that began outside Bakiev's office on November 2.
The demonstrators were demanding that Bakiev implement constitutional and other reforms or step down.
Understanding Kyrgyzstan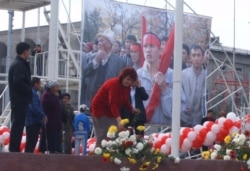 Workers preparing for celebrations of the constitutional compromise in Bishkek on November 9 (RFE/RL)


A STABLE FOUNDATION? On November 9, RFE/RL's Washington office hosted a briefing featuring RFE/RL Kyrgyz Service Director Tyntchtykbek Tchoroev and RFE/RL analyst Daniel Kimmage.
LISTEN
Listen to the complete discussion (about 80 minutes):

Real Audio
Windows Media
RELATED ARTICLES
Parliament Adopts Constitution Curtailing Presidential Powers
Crisis Deepens After President Proposes Constitutional Changes
Bishkek Prepares For Large Opposition Rally