The big losers in Milosevic's wars, Mesic argued, were nonetheless the Serbs themselves. (Read the complete interview in Croatian.)
Mesic argued that Milosevic thought in 1991 that he could "fool the world" into thinking he was determined to preserve the Yugoslav state when, in reality, he was trying to expand Serbia's boundaries into neighboring Croatia and Bosnia-Herzegovina.
It seems to Mesic unreasonable to expect Kosovo's status to be resolved by direct talks between Pristina and Belgrade, since Kosovo's ethnic-Albanian majority wants only independence, to which the Serbs will never agree.
"His goal was to establish a Greater Serbia," Mesic said.
In doing so, Milosevic tricked Serbian minorities outside Serbia by telling them he would not leave them outside Serbia's frontiers, and he led some of them to believe they would have a privileged status in his new state. In the end, however, all this came to nothing. Even his former allies in Montenegro deserted him and have now formed their own independent state.
Mesic said he is not sure the time is now ripe for him to invite to Vukovar his Serbian counterpart, Boris Tadic, but added that "it would be a good [idea]."
He stressed that what happened in Vukovar was "a big crime, even a crime of genocide." To the extent that people recall what happened in Vukovar and honor the victims, they have taken one more step toward ensuring that something like the destruction of that town "will never happen again," he said.
Pristina, Belgrade Can't Resolve Kosovo Problem
Mesic said the time has come to resolve the question of Kosovo's status because the current "status quo cannot remain in the long run." It also seems to Mesic unreasonable to expect the issue to be resolved by direct talks between Pristina and Belgrade, since Kosovo's ethnic-Albanian majority wants only independence, to which the Serbs will never agree. Consequently, Mesic told RFE/RL, "the international community has to help."
Like many observers, Mesic argues that the most likely outcome is that Kosovo will become independent, but on the condition that it observes "those standards [of conduct] that apply in Europe."
He identifies these principles as respect for "civil rights, multi-party political pluralism, protection of national minorities, freedom of the media, functioning [state] institutions, the separation of powers between the legislative, executive, and judicial branches, and protection for religious and historical monuments."
He added that the Kosovars will also probably be asked to guarantee that they will not seek to form a "Greater Albania," which, however, is not seriously sought by any leading Kosovar or Albanian political party.
The Bosnian Presidency
Mesic cautioned against hasty judgments regarding Zeljko Komsic, the new Croatian representative on the Bosnian three-member Presidency. Mesic noted that many Croats have suggested that Komsic might not "defend Croatian interests" because he does not belong to a nationalist party -- he is a Social Democrat -- and because he fought in the mainly Muslim Army of Bosnia-Herzegovina rather than in the mainly Herzegovinian Croatian Defense Council (HVO) during the 1992-95 conflict.
"What do people expect?" Mesic asked rhetorically. "That he should have served in the Army of the Republika Srpska? It is quite normal that one should have fought for Bosnia-Herzegovina."
Mesic argued, moreover, that Bosnia's problem is that it needs to form a functioning state and get away from a tendency of its two constituent entities to behave as though they were states. "They're not," he said starkly.
A Storied Career
Mesic is one of the best-known figures on the political stage of former Yugoslavia and has been prominent in Croatian politics for most of the time since at least 1990, when he became prime minister. It was the move in May 1991 by Milosevic and his allies in the eight-member collective Yugoslav Presidency to block Mesic's assumption of the rotating chair of that body -- a move that would have been routine under normal circumstances -- that triggered the decisions of Croatia and Slovenia to declare independence in June.
Mesic returned to Croatia, where he was a member of President Franjo Tudjman's Croatian Democratic Community (HDZ). In 1994 he broke with Tudjman and the HDZ over the conduct of the war in Bosnia-Herzegovina and eventually found his political home in the smaller Croatian People's Party (HNS).
When Tudjman died in office at the end of 1999, most Croats were clearly eager to break with a style of rule that was widely seen as paternalistic, pompous, and rooted in the 1991-95 war. Mesic was first elected to the presidency in early 2000 and quickly established himself as Croatia's most respected politician. He adopted a more folksy style than that of his predecessor, whose stiffness was often the butt of jokes.
Mesic also worked to break the power of the "Herzegovinian lobby" in Croatian politics, and there is still little love lost between him and the HDZ in Herzegovina. He has also been at odds with organized war veterans groups, who regard him as insufficiently nationalistic. Mesic and most Croatian political leaders since 2000 have made it clear that they want to put the war era behind them and concentrate on raising the standard of living and on joining the EU and NATO.
In the early years of his presidency, Mesic used the more informal version of his first name, Stipe, although in recent years he has usually gone by Stjepan. In a marked contrast with Tudjman's aloof style, Mesic traveled to the Dalmatian islands with a regularly scheduled ferry rather than with a presidential yacht and drank wine on the docks with fellow passengers.
Although critics have charged in recent years that he has come to mimic the presidential style of the late Josip Broz Tito and has drifted politically too far to the left, he has generally kept the office free of the taint of corruption and nepotism that blemished Tudjman's rule.
RFE/RL Exclusive Interviews
RFE/RL Exclusive Interviews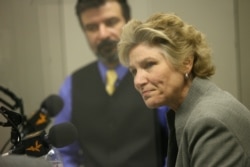 U.S. Undersecretary of State Karen Hughes being interviewed by RFE/RL in Prague on June 11 (RFE/RL)
AT THE MICROPHONE. RFE/RL frequently conducts in-depth interviews with leading newsmakers and analysts from throughout its broadcast region. Transcripts of many of these interviews have been gathered on a special archive page.
Recent Highlights:
Romanian President Traian Basescu | On EU aspirations
Georgian Integration Minister Giorgi Baramidze | On Georgia's relations with NATO, EU
U.S. Ambassador to the IAEA Gregory Schulte | On Iran's nuclear program
Kyrgyz Foreign Minister Alikbek Jekshenkulov | On relations with Uzbekistan
Former Ukrainian President Leonid Kuchma | On the return to power of Viktor Yanukovych