It's the top piece of a yurt that forms the tent's circular opening to the sky.
The object is instantly recognizable to anyone in Central Asia. It's such an emblem of national identity to the Kyrgyz, in fact, that a yurt crown forms the centerpiece of the national flag.
For the nomads of Mongolia and parts of Central Asia, the yurt -- a portable tent with a supple wooden frame -- is a practical necessity. Yurts provide shelter from the heat of summer and the snows of winter. They can accommodate an entire extended family.
And they can be taken down and loaded on a horse in a matter of minutes.
Long Road Back

Yet Sprado's workshop is the middle of the Czech countryside. The last time yurts were spotted around here was 700 years ago, when the Mongol hordes laid siege to the region.

But the yurt is making a comeback in Europe. And that means Sprado has tapped into a growing market niche.

Since he started two years ago, Sprado has built some 20 yurts.

Sprado works alone, in his isolated farmhouse, creating the supple, latticed frame that underpins the yurt's cloth covering.

It's a complicated process that includes sawing the wood pieces to the right size and steaming them so they can be bent into the needed circular shape. An outside assistant then cuts and sews the cloth for the cover, which can be simple cotton for summer or thick felt for winter.
"My journey that led to making yurts wasn't through Mongolia. It was the opposite. Through yurt making, I developed the desire to discover Central Asia." -- Sprado
Sprado makes both Kyrgyz and Mongol types -- the more ornate Kyrgyz model is his personal favorite. But he sells more Mongol models, which are less expensive.
How long does it take to make a yurt, from start to finish?

"It depends on the type of yurt," Sprado said. "There are many factors which can lengthen the production time. But the yurt people want most often is a standard-type yurt, six meters in diameter, with a door -- with no floor and no felt covering, no insulation. And that takes about one to 1 1/2 months to make."

Through his Internet site, Sprado sells his creations to customers all over Europe. His yurts can be as basic -- or as fancy -- as their owners' imagination.

A Modern Take

Some of Sprado's custom-made innovations include plexiglass skylights to cover the top in winter, floor covers for better insulation, and energy-efficient heaters.

Most people who buy his yurts, says Sprado, are what you might call "alternative" types. In the 1960s, they might have been hippies hanging out in teepees. Now they want yurts.

One satisfied customer, who runs a teahouse near Prague, set up his yurt in a forest clearing, where he plans to live year-round.


"I just got the idea that I wanted to live in something round," he said. "So the alternatives were a yurt, a teepee, or an igloo. There's not enough snow around here for an igloo. A teepee seemed, well, too Indian. So a yurt was the right choice."
Other yurt buyers, according to Sprado, are entrepreneurs who see a business opportunity in the new yurt trend.
"There are customers who are also interested in business," Sprado said. "They want yurts for their commercial campsites. For example, there is a project in Lisbon now, which will be an alternative campsite that will feature yurts, teepees, Arabian tents."
Have Yurt, Will Travel
Sprado sees a bright future for yurts in the West. His interest in the East, meanwhile, continues to grow through his craft.
You see, although Sprado is a master yurt maker, he's never been to Mongolia or Central Asia.
"I studied economics and political science in Prague, but I didn't get my degree. I quit my studies and started traveling," Sprado said.
It was in France, three years ago, that Sprado befriended a German yurt maker who taught him the trade. The rest is history.
Sprado's great wish is to travel to the yurt's homeland. He hopes to turn that dream into reality before too long.
"It's my great desire to go [to Mongolia and Central Asia] someday," he said. "My journey that led to making yurts wasn't through Mongolia. It was the opposite. Through yurt making, I developed the desire to discover Central Asia."
Bohemian Yurt Maker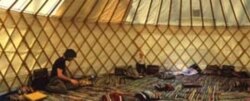 CENTRAL EUROPE MEETS CENTRAL ASIA: Few urbanites in Bishkek or Ulan-Bator would trade their warm apartments to live in a yurt. But in Europe, some have become bored with city life and are seeking a bohemian lifestyle. One Czech artisan is carving out a niche in a growing market with his own renditions of the traditional Central Asian dwelling.


WATCH
View a short RFE/RL video presentation (about 90 seconds).
Real Video