One son has just been sentenced to seven years in jail for tax evasion, another fined on the same charges, and a third is facing subversion charges. Kadeer and rights groups believe they are being punished because of their mother's work.
Kadeer knows what a jail term in China means. She spent more than five years in prison after being convicted of giving away state secrets. Released last year, she went into exile in the United States.
The one-time millionaire businesswoman said she was told when she was released that if she continues her activism for Uyghur rights her family and her businesses in China would be "finished off."
"People don't know what's going on in China -- the Chinese hide everything and present things differently -- the world press knows very little."
As it happens, she was elected on November 26 as the head of the German-based World Uyghur Congress at a meeting in Munich.
One day later came word of the sentencing of her two sons in the tax evasion case. In a statement, Kadeer said the treatment of her sons is part of the Chinese government's "vendetta" against her and, by extension, against any Uyghur who stands up to the authorities.
Beijing is sensitive about ethnic-Uyghur resistance to Chinese rule, and blames Uyghur separatists for the sporadic acts of violence which have occcured in the Uyghur-inhabited Xinjiang Province in recent years. The separatists are seeking to reconstitute an independent entity called East Turkestan.
The president of the German-based East Turkestan Information Center, Abduljelil Qarkash, says the conviction of the sons (Alim Abdureyim and Kahar Abdureyim) was clearly politically motivated.
"This is political, the authorities are doing everything possible so that their mother suffers and thus refrains from political comment to the outside world," he said.
The London-based rights organization Amnesty International has condemned the sentencing. Amnesty's East Asia researcher, Corinna-Barbara Francis, says there is a pattern developing of threats and harrassment against the families of human rights activists in China.
"We [in Amnesty] have felt just recently that this has become a much more serious and pervasive phenomenon [in China], we have been talking about that," she said.
She says the families of two other prominent Chinese rights activists -- the lawyer Gao Zhisheng and Chen Guangcheng -- have also had intolerable pressure placed upon family members.
Francis says this is a very effective means of keeping people quiet. "We see this as a way of getting at the dissidents, at the activists, in a way that is not so prominent on the international stage; and it is very effective, because it is one thing for people to take risks for themselves, but when they put their family at risk...it's a terrible way to treat people," Francis said.
She says that Beijing is growing more skilled at suppressing dissent without bringing too much international criticism on itself.
For instance, the Kadeer sons were charged with tax evasion rather than any political offense, and no one outside China is in a position to prove positively that these allegations are false. As Qarkash of the East Turkestan Information Center puts it, "People don't know what's going on in China -- the Chinese hide everything and present things differently -- the world press knows very little."
Chinese officials were not immmediately available for comment. However, the Foreign Ministry recently denounced Rebiya Kadeer as a separatist who engaged in "splittist" activities. The ministry also condemned her nomination for the 2006 Nobel Peace Prize.
China In Central Asia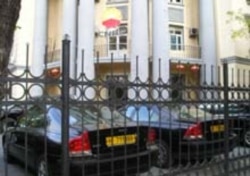 The Almaty,Kazakhstan, office of China's National Petroleum Corporation (RFE/RL)
BEIJING ON THE RISE:
The September 11, 2001, terrorist attacks against the United States prompted Washington to topple the Taliban regime in Afghanistan. At the time, many predicted the United States would gain a new foothold in Central Asia: new U.S. military bases appeared in Kyrgyzstan and Uzbekistan, U.S. foreign aid increased, and much U.S. attention was lavished on the region. Russia and China looked on warily. But the pendulum may be swinging back in Moscow's and Beijing's favor. China, especially, has expended great effort at winning friends in Central Asia and is becoming a force to be reckoned with
....(more)
RELATED ARTICLES
Turkmenistan-China Pipeline Project Has Far-Reaching Implications
Central Asia Looks To Fuel Asia's Economic Boom
The Geopolitical Game In Central Asia
ARCHIVE
To view an archive of RFE/RL's coverage of China, click here.

SUBSCRIBE
For weekly news and analysis on all five Central Asian countries by e-mail, subscribe to "RFE/RL Central Asia Report."