Although there is no hierarchy among Christian Orthodox churches, Ecumenical Patriarch Bartholomew is often referred to as the "first among equals" of the Christian Orthodox world's leaders. The pope's bridge-building meeting took place on the second day of his trip to Turkey, which began in Ankara with efforts to reach out to Muslims.
Despite 1,000 years of schism between their two churches, Benedict and Bartholomew sought today to focus on the close ties between Roman Catholicism and Orthodox Christianity.
Bartholomew welcomed Benedict when he arrived at Istanbul's airport. The two men then traveled by motorcade -- accompanied by an armored military vehicle -- to the Orthodox Patriarchate, where they lit candles.
The mood at Bartholomew's walled compound was solemn and security was tight. As liturgical bells rang, sharpshooters stood ready on nearby roofs and helicopters swooped overhead.
Benedict, surrounded by Orthodox clergymen, urged the leaders of both churches "to work for full unity of Catholics and Orthodox."
Despite the two prelates' efforts to show mutual goodwill, their meeting wasn't expected to lead to any breakthroughs. But it will be closely watched for signs that relations could become warmer in the future.
Bridging The Gap Between East And West
The pope came to Turkey at Bartholomew's invitation and the choice of Istanbul for the meeting has symbolic importance.
It was in Constantinople -- present-day Istanbul -- in 1054 that the eastern and western parts of Christendom split in the "Great Schism" amid disputes over papal primacy and theological issues.
The two branches remain far apart and reconciliation talks focus not on reuniting them but on working together against common threats, such as the advance of secularism in European societies.
Before meeting with Bartholomew, the pope today visited the ancient ruins of Ephesus on the Aegean coast. He prayed at a shrine to the Virgin Mary, mother of Jesus, who is believed to have spent her final years there. In a gesture of outreach, the pope spoke the first few words of his prayer in Turkish.

The pope will spend the rest of his four-day trip in Istanbul focusing mostly on Christian concerns. This will include calling on Ankara for greater rights for Turkey's small Orthodox community.
That is in sharp contrast to the start of his trip, which began in Ankara on November 28 and concentrated upon reaching out to the Muslim world.
Call For 'Authentic Dialogue'
"The best way forward is via authentic dialogue between Christians and Muslims, based on truths, and truth, and inspired by a sincere wish to know one another better, respecting differences and recognizing what we have in common," Benedict said as he met in Ankara with Ali Bardakoglu, the chief of Turkey's Religious Affairs Directorate.
The two men sought to set aside differences over remarks by the pope in September in which he angered Muslims by citing a Byzantine emperor who characterized Islam as a violent religion.
Bardakoglu, who was one of the first Muslim leaders to fault the pope over that speech, said at the meeting that "religious leaders must refuse to be instruments of the tensions of international politics."
Bardakoglu said Islam is a religion of peace.
"We Muslims condemn all types of violence and terrorism, whoever commits it and whoever is targeted, and we perceive it as a crime against humanity," he said. "We belong to a religion that assumes that killing an innocent person is a heavy crime and a sin, like killing all of humanity."
Support For Turkey's EU Bid
The pope also met on November 28 at Ankara airport with Turkish Prime Minister Recep Tayyip Erdogan.
Erdogan told reporters after the meeting that he asked the pope to support Turkey's bid to become an EU member.
The Turkish head of government quoted the pope as saying "we don't have a political role, but we wish for Turkey's entry into the EU."
The quotation was greeted with surprise and welcome today by many Turkish newspapers. The Turkish public has widely viewed the pope as opposed to Turkey joining the EU, based on reported statements made before he became pontiff.
A major Turkish religious daily, "Yeni Safak," wrote today that the pope was "full of surprises." The paper noted that while Benedict was getting on the plane to come to Turkey he said he was going for peace and dialogue, and in his meeting with Erdogan he supported Turkey's membership in the EU.
The pope's trip is taking place amid heavy security but fears of large protests have proved unfounded. Two small, peaceful demonstrations took place in Ankara on November 28, in contrast to a much larger protest before his visit.
Pope Benedict XVI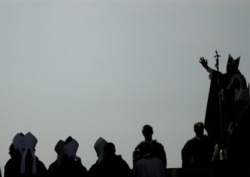 Pope Benedict conducts a Mass in Bavaria in September 2006 (AFP)

FIGHTING SECULARISM, EXTREMISM: On April 19, 2005, German-born Cardinal Joseph Ratzinger was elected pontiff of the Roman Catholic Church. Since becoming Pope Benedict XIV, the pope has labored to combat growing secularism in Europe and growing fundamentalist extremism in the Islamic world. His efforts have sometimes provoked controversy.
RELATED ARTICLES
Pope Expresses 'Deep Respect' For Muslims
Pope's Comments Bring Threats, Condemnation
Pope's Remarks Bring Interfaith Dialogue To Crisis Point
Pope Sparks Controversy With Jihad Remarks
Catholic, Orthodox Churches Unite Against European Secularism
Orthodox And Catholics -- Heading Toward Reconciliation?