Uzbekistan's Senate Approves Draft Amnesty Bill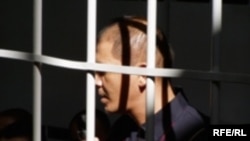 An Uzbek prisoner jailed for his role in the unrest in Andijon in 2005, which triggered a bloody military crackdown (file photo) (RFE/RL) November 30, 2006 -- The upper chamber of the Uzbek parliament today approved an amnesty bill that would release entire categories of inmates to mark the 14th anniversary of the Uzbek constitution, which falls on December 8.
The bill was proposed by President Islam Karimov.
Those eligible for a presidential pardon include foreigners, women, and people over 60 of age who were convicted only once and whose offenses are not particularly serious.
Prisoners who were under 18 of age when they committed their first criminal offense or those who have been officially recognized as being seriously ill in the past year should also be released from custody.
The amnesty, however, will not extend to inmates who were sentenced for belonging to banned organizations that are deemed dangerous for national security.
Those include all people convicted of membership in the Hizb ut-Tahrir and the Islamic Movement of Uzbekistan, two radical groups that seek to establish a caliphate in Central Asia.
(UzA, press-uz.info)

RFE/RL Central Asia Report

SUBSCRIBE For regular news and analysis on all five Central Asian countries by e-mail,
subscribe to "RFE/RL Central Asia Report."