Many thousands of demonstrators set up tents and spent the night outside the governmental palace in central Beirut that houses Prime Minister Fuad Siniora's office, following a mass demonstration on December 1 that brought hundreds of thousands of people into the streets, temporarily blocking access to Siniora's office.
The protesters say they will continue their demonstrations until the government resigns. They have threatened to escalate their protest actions in the coming days, but they say the demonstrations will remain nonviolent.
"The ball now is in the court of the group ruling illegally and unconstitutionally and which holds responsibility for all the next steps we are going to take. We have more surprises other than Friday's protest."
Siniora has vowed not to allow his government to be brought down by street protests, saying it would only resign as a result of a no-confidence vote in parliament. Siniora's cabinet has support from about 70 parliamentarians in the 128-seat parliament.
Ali Ammar, a member of parliament from Lebanon's Hizballah movement, says Hizballah has what he called "more surprises" in its bid to topple the government.
"We won't leave these squares until this authority takes back its mistake and complies to the will of the majority of the people, most of whom want to escape this crisis and form a unity government," he said. "The ball now is in the court of the group ruling illegally and unconstitutionally and which holds responsibility for all the next steps we are going to take. We have more surprises other than Friday's protest."
The crowds on December 1 also filled Martyrs Square in Beirut, where former Prime Minister Rafik Hariri is buried. He was assassinated on February 14, 2005.
Martyrs Square also is where thousands of anti-Syrian followers gathered last week to mourn the killing of Industry Minister Pierre Gemayel. Gemayel was gunned down in his car along with his bodyguard by unidentified gunmen.
Siniora's government has received strong backing from Western governments and Arab states, including from Jordanian King Abdullah II and Saudi King Abdullah, whose ambassador in Beirut held meetings with the opposition to help ease the blockade.
British Foreign Secretary Margaret Beckett, who is in Beirut, spoke to reporters today after meeting Siniora.
"I wanted to have the opportunity to come and see some of these issues for myself and to show solidarity with the government," she said. "This is a government elected by the people of Lebanon and a government which has the constitutional authority that election gives it. So I think for the international community to be seen to be working to support a constitutionally elected government is not, surely, a bad thing."
A U.S. State Department spokesman, Tom Casey, accused Syria and Iran of helping instigate the protests, which he said are aimed at toppling the democratically elected government.
Casey also accused Syria and Iran of instigating the demonstrations in order "to destabilize Lebanon."
The opposition, spearheaded by Hizballah, has been bolstered by the fierce resistance it displayed during the 34-day summer war with Israel. Since Israeli forces pulled out of Lebanon, Hizballah and its allies have been demanding a greater voice in the government.
But the anti-Syrian camp says opposition demands are a ploy aimed at blocking the creation of an international tribunal to investigate and try suspects in Hariri's murder, which many blame on Damascus.
Former Lebanese Prime Minister Rafiq Hariri
Former Lebanese Prime Minister Rafiq Hariri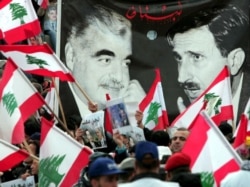 Lebanese demonstrating in Beirut on the first anniversary of Hariri's slaying in February (epa)
POINTING AT SYRIA. The February 2005 assassination of former Lebanese Prime Minister Rafiq Hariri shook the fragile political situation in Lebanon and threatened the entire region. The international community have been increasingly vocal in accusing Syria of involvement in the killing and in demanding that Damascus cooperate with a UN investigation....(more)
RELATED ARTICLES
Lebanon's Cedar Revolution Hangs In The Balance
500,000 Rally In Beirut To Mark Anniversary Of Premier's Slaying
People Want 'Truth,' But Not All Welcome Mehlis Report
Security Council Demand Syria Cooperate With Hariri Probe
Syrian Interior Minister's Death Linked To Lebanon
ARCHIVE
All of RFE/RL's English-language coverage of
the Middle East
. The Arabic-language website of
RFE/RL's Radio Free Iraq
. The Farsi-language website of
Radio Farda
.