North of the capital, a car bomb stopped a minibus carrying employees of the agency that cares for Shi'ite shrines in Iraq.
Gunmen then shot and killed at least 15 employees of the Shi'ite Endowment and wounded at least seven others.
On the other side of Baghdad, up to three car bombs detonated one after another next to a gasoline station, killing at least 16 people. The attack in the southern Bayah area wounded about 20.
It wasn't clear who carried out the attacks, but they come amid intense sectarian violence between Iraqi Sunnis and Shi'a.
On December 4, a leading Iraqi Shi'ite politician said the only way to avert civil war in Iraq would be for U.S.-led forces to strike harder against Sunni-led insurgents.
Abdul Aziz al-Hakim, leader of the Supreme Council for the Islamic Revolution in Iraq (SCIRI), made the comment during a visit to Washington.
(AP, Reuters, AFP, dpa)
Sectarian Iraq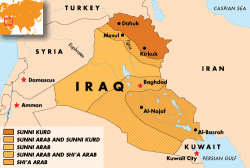 Click to enlarge the image.
SUNNI, SHI'A: Iraq is riven along sectarian lines, faults that frequently produce violent clashes and are a constant source of tension. Sectarian concerns drive much of Iraqi politics and are the main threat to the country's fragile security environment.


THE COMPLETE PICTURE: Click on the image to view RFE/RL's complete coverage of events in Iraq and that country's ongoing transition.