A Chinese official said a closing statement signed only by China would be issued, rather than a joint statement.
One stumbling block has been North Korea's demand that the United States end its financial sanctions against Pyongyang, imposed last year for alleged money laundering and counterfeiting.
But the chief U.S. envoy to the talks, Christopher Hill, called for future talks to focus on the core issue -- North Korea's nuclear ambitions:
"I think what they need to do is get serious about the issue that has made them such a problem, the issue that has really contributed to their problems worldwide in dealing with other states, in dealing with financial institutions, indeed, and in dealing generally with the world and that is these nuclear activities," Hill said.
The talks, bringing together North Korea, South Korea, the United States, China, Japan, and Russia, were the first in more than a year intended to persuade North Korea to give up its development of nuclear weapons.
No plans for another round of talks were announced.
(compiled from agency reports)
RFE/RL Briefings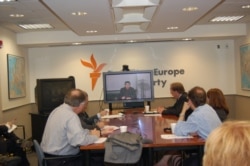 BEYOND THE HEADLINES. RFE/RL regularly hosts briefings and discussions with leading experts on our broadcast region. In 2006, some of the crucials topics were gas wars, elections in Belarus and Ukraine, Iran's nuclear program, and unrest in Central Asia....(more)
SUBSCRIBE
To receive RFE/RL briefing invitations and reports by electronic mail, send a message to
dc-response@rferl.org
with "Subscribe" in the subject line.