In an article published in the most recent edition of the medical journal "The Lancet," the authors found resistance to anti-TB drugs in almost all of the 79 countries surveyed. Resistance was particularly high in China and parts of the former Soviet Union.
Kazakhstan has the highest prevalence of new cases of MDR tuberculosis in the world. Fifty-seven percent of the new cases of tuberculosis in Kazakhstan do not respond to tradition TB treatments.
Even after countries make improvements to improve the training of doctors, ensure sufficient monitoring of patients, and shore up the supply of medicines, the legacy of MDR tuberculosis can linger for years
Tomsk Oblast in Russia and Karakalpakstan in Uzbekistan are also hotspots, as are some locations in China.
Improper Treatment Produces Resistance
MDR tuberculosis occurs when traditional tuberculosis is not treated properly. Patients need take their antibiotics daily for several months, but some patients stop when they start to feel better.
"If you leave patients by themselves, there will be a very good chance that after a month or two when patients feel better they start selecting their own regimen," says Mario Raviglione, director of the Stop TB department of the World Health Organization and co-author of "The Lancet" study. "They say, 'Oh, I don't want to take four drugs. I only need one or two.'"
In other cases, doctors fail to prescribe the right medicines for a long-enough period, or the prescribed medicines are not available.
When the medication is stopped too soon, the disease can return in a few months.
And, worse, the disease is now resistant to the usual medicines, and the patient can infect others with this new, MDR tuberculosis.
Long-Term Problem
Even after countries make improvements in the public-health programs to improve the training of doctors, ensure sufficient monitoring of patients, and shore up the supply of medicines, the legacy of MDR tuberculosis can linger for years.
Raviglione says some people infected with the bacillus may take one or two years to become ill. Others may take 10 or even 20 years before TB appears, thus an entire generation can be affected by what happens today.
The Baltic countries experienced a surge of MDR TB in the late 1990s, but they were able to make improvements shortly afterward. In Latvia, the cases of MDR TB have been going down steadily. According to Raviglione, this is because Latvia instituted proper TB-control programs several years ago.
Other parts of the world have not responded by strengthening their public-health programs with the same speed. International health officials are less confident of measures taken in Central Asia.
Raviglione says there is a general belief that TB-control practices in Central Asia have improved. But the disease still poses a challenge there, and much remains to be done.
The Looming Threat Of Extreme Drug-Resistance
Failing to contain the spread of MDR TB could lead to an additional threat: the emergence of a new, almost untreatable, form of TB -- extreme drug-resistant TB.
The WTO held a gathering of its experts from around the world in Johannesburg in September, to draw up plans for combating extreme-resistant TB.
"What we are going to do is to set up a task force that will be reviewing the current situation and making precise recommendations by the end of the year about how to tackle [extreme drug resistant TB]," TB specialist Ernesto Jaramillo told RFE/RL at the time. "But in the meantime, what we are strongly recommending is to ensure that second-line drugs -- the drugs used to treat [MDR] TB -- are properly used. The rational use of second-line drugs is the most powerful way to prevent the creation of extreme drug resistant TB."
This type of TB has proved fatal for patients with HIV. In August, researchers reported 53 of 54 HIV-positive patients in a South African hospital died within less than a month of being diagnosed with extreme drug-resistant TB.
The Post-Soviet Environment
The Post-Soviet Environment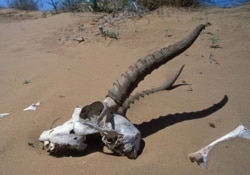 The skull of a male saiga antelope in Kalmykia. Saiga numbers have collapsed disastrously over the last decade. (shpilenok.com)
THE FRAGILE PLANET:
Since the collapse of the Soviet Union, old environmental disasters have come to light and new ones have emerged. War, poverty, and weak central-government control have led to serious environmental problems from Eastern Europe to the Russian Far East. RFE/RL has provided extensive coverage of these important issues and of efforts to cope with them.
RELATED ARTICLES
Saiga Antelope's Saga Attracts New Allies
Project To Reverse Aral Sea Damage Making Progress
Iraqi Marshes Show Signs Of Strong Recovery
Deforestation Rampant In South And Central Asia
Environmentalist Says BTC Pipeline Could Be 'Death Of Caspian'
Scientists Raise Alarm As Man-Made Deserts Spread
Nature Waits For Cross-Border Sanctuaries To Catch On
Central Asian Vllagers Encouraged To Protect Snow Leopards
Environmentalists Raise Concerns About Russian Ecology Policy
ARCHIVE
RFE/RL coverage of environmental issues
.