Germany will guide the European Union for six months, and the G8 for a year.
The leadership of the two organizations, while only temporary, gives Berlin the opportunity to set priorities that will determine how major issues advance.
Energy Security Top Priority
Securing energy supplies for Europe, mainly oil and gas, is at the top of German priorities for its EU Presidency. Senior analyst Jan Techau, of the German Council on Foreign Relations in Berlin, says the EU is only beginning to realize the importance of this issue.
"The European Union has started very late to accept that energy interests in the Middle East -- but also in Central Asia, and in Eastern Europe with Russia -- that these are vital problems, these are existential problems for Europe," Techau says.
Techau says the EU's growing dependence on Russian energy makes good relations with Moscow essential. But he says there is a "lingering fear" that Moscow is prepared to use its resources to exert pressure on client countries.
"Russia has recognized and discovered that the energy weapon is a far more potent weapon than a nuclear device could ever be," Techau says. "And so it is very, very smart in positioning itself strategically on the European market."
Another senior analyst, Werner Becker of Deutsche Bank Research in Frankfurt, says Europe must find a way to contain what could become an uncomfortable situation.
"At the moment, it looks like the Russians want to dictate the Europeans' energy policy," Becker says. "So the Europeans must take care that they don't allow themselves to be divided, and they must find a joint strategy toward Russia."
Reaching Out To Central Asia
Another issue that interests Berlin is developing relations with Central Asia. German Foreign Minister Frank-Walter Steinmeier recently toured the region to see firsthand how Europe could become more involved. A German initiative is expected soon.
But Techau of the German Council on Foreign Relations does not foresee major developments. And he says the diplomacy will be difficult, because the traditionally dominant power in the area, Russia, has a phobia of being "surrounded."
In the Central Asian context, this means by the European Union in the west, Islamic nations in the south, and China to the east.
Techau sees progress in Central Asian-EU ties coming on smaller issues, such as water management and the control of drug trafficking. But these can set the scene for more. "It's these little technical issues that usually pave the way for bigger cooperation," he says.
Berlin Lacking Assertiveness?
There is concern in some quarters that Germany is too worried about keeping on the good side of Russia. Tom Porteous, a senior official with Human Rights Watch (HRW) in London, says HRW fears that under the German presidency, the EU will not show the necessary determination to bring about an improvement in the human rights situation in Uzbekistan.
"We are concerned that this is being driven by Germany's Ostpolitik -- its concern to keep on good terms with Russia -- and given that Germany is taking over the EU Presidency next year for six months, we are concerned about that," Porteous says. "We do not feel that the EU presently has enough spine to deal effectively with the situation in Uzbekistan, which has not improved."
The EU imposed sanctions on Uzbekistan in the wake of the Andijon killings there in 2005, but Porteous wants to know where the follow-up moves are.
Slowing EU Expansion
Then there is the question of Turkey's troubled bid for EU membership, which Brussels has partially frozen due to Ankara's refusal to open its ports and airports to EU-member Cyprus.
Germany's Christian Democrats, the leading member of the left-right "grand coalition" under Chancellor Angela Merkel, do not favor full Turkish membership in the European Union. They suggest that Turkey is not truly European.
So it remains to be seen how vigorously the German presidency will pursue Turkish accession.
However, analyst Techau notes that the presidency cannot deviate from set EU policy, which is that Turkey is formally recognized as a candidate state and is moving toward eventual membership -- even though the timing cannot be predicted.
Also on the enlargement theme, Germany will be welcoming Romania and Bulgaria into the EU on January 1.
Trade, Currency Concerns
As for the G8 chairmanship, Deutsche Bank analyst Becker says Berlin will be looking at the possibility of reviving the Doha round of world trade talks. Those talks collapsed earlier in 2006 when the United States and the EU could not agree on further cuts in agricultural subsidies.
"Now it's up to the Europeans and the Americans to see whether they can't find a way to offer compromises on farm policies, so as to give the whole round some prospects of success," Becker notes.
Another G8 concern will be exchange rates of major world currencies. The U.S. dollar has fallen sharply in value against other currencies, including the EU's common currency, the euro, altering the relationships of trade all over the world.
The G8, comprising Germany, Japan, France, Canada, Italy, Britain, Russia, and the United States, will have to consider how far the dollar can be allowed to fall before it begins to affect the stability of the international financial system.
It is also likely that, as G8 leader, Germany will continue efforts to have China revalue upward its currency, the yuan. Western countries, most notably the United States, regard the yuan as being held well below its true value, thereby making Chinese exports cheaper on world markets.
Prague Energy Forum, October 23-24
Prague Energy Forum, October 23-24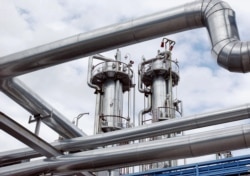 An oil refinery in Western Siberia (TASS)

STABILITY AND SECURITY: On October 23-24, RFE/RL and the Warsaw-based Economic forum cosponsored the Prague Energy Forum at RFE/RL's Prague broadcasting center. The Energy Forum brought together nearly 100 experts and policymakers from Europe, Central Asia, and the Middle East to discuss key issues of energy supply and security in the years to come.
HIGHLIGHTS: RFE/RL presents some of the key presentations from the Energy Forum and interviews with some participants:
Czech Premier Urges Reduced Energy Dependence On Russia
Interview: Nature A Bigger Threat To Security Than Terrorism
Russia Can Boost Security Through Transparency
Interview: Russian Expert Addresses Europe's Security Concerns
U.S. Official Outlines Concerns About Iran's Nuclear Program
Iranian, Western Experts Spar Over Tehran's Nuclear Ambitions
Experts Ponder Future 'Gas Wars'
Former U.S. Ambassador Says Kyiv Can Cope With Gas Price Rise
Interview: Tbilisi Bent On Energy Independence


MORE: Click on the image to see the conference program, participant list, and other materials.