FBI Agents Detail Mistreatment Of Guantanamo Detainees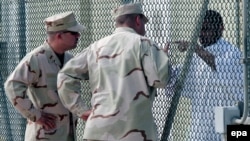 Guards and a detainee at Guantanamo in February 2006 (epa) January 3, 2007 -- New documents released by the FBI list more than two dozen incidents of purported mistreatment of detainees at the U.S. military base at Guantanamo Bay.
The documents said FBI agents saw several detainees being chained to the floor for long periods with no chairs, food, or water.
Other alleged incidents involved interrogators insulting the Koran or employing sexual intimidation.
Many of the incidents in the FBI documents already have been reported and are summarized in a lawsuit filed by the American Civil Liberties Union (ACLU).
The ACLU is suing former U.S. Defense Secretary Donald Rumsfeld and others on behalf of former military detainees who say they were abused.
A Defense Department spokesman, Lieutenant Commander Joe Carpenter, said reviews of detention operations have found no policies that condone abuse.
(dpa, AP)