The reports quoted officials as saying Negroponte is expected to resign to become deputy secretary of state, the No. 2 position at the State Department after Secretary of State Condoleezza Rice.
It is not clear when the move will become official.
Negroponte, a career U.S. diplomat, took over in 2005 as the United States' first intelligence chief, responsible for overseeing 16 U.S. intelligence agencies.
(AP, Reuters)
RFE/RL Briefings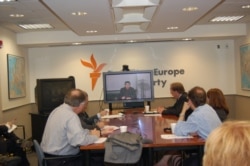 BEYOND THE HEADLINES. RFE/RL regularly hosts briefings and discussions with leading experts on our broadcast region. In 2006, some of the crucials topics were gas wars, elections in Belarus and Ukraine, Iran's nuclear program, and unrest in Central Asia....(more)
SUBSCRIBE
To receive RFE/RL briefing invitations and reports by electronic mail, send a message to
dc-response@rferl.org
with "Subscribe" in the subject line.