The appeal coincides with a tidal wave of public rallies in China, with the potential to cause social upheaval in the Asian giant.
Luo's remarks came during a tour he made of the eastern Shandong Province. His concern with social stability in China is certainly justified, judging by the statistics compiled and issued by the Ministry of Public Security.
The official figures show that in 2005, the number of unauthorized demonstrations, protests, and rallies in China grew to 87,000 -- compared with 74,000 in the previous year.
Joseph Chung, a professor at the Chinese Study Center at Hong Kong's City University, told RFE/RL that the Chinese leadership is well aware of the challenges the authorities are facing.
"There is an understanding that with rapid economic development, the gap between the rich and poor is widening."
"There is a certain consensus among the leaders and the official think tanks that at this stage of economic development, when the people of China enjoy a per capita GDP of between $1,000 U.S. and $3,000 per annum, the social contradictions will probably be sharpest; there is an understanding that with rapid economic development, the gap between the rich and poor is widening," Chung says.
Asked whether this situation could result in instability if unchecked, Chung said it's possible.
The problems stem from the way pro-market reforms have been implemented. The reforms have propelled China in record time into a place as one of the world's top economies. But at the same time, because the social-security network has been neglected, millions have fallen deeper into poverty, while rapid industrialization is placing unsustainable strains on the environment.
One of the most serious examples of how grievances can turn to violent confrontations came in December 2005. At the time, police in Guandong Province clashed with villagers angry at the loss of land to factories, which in turn spread pollution over the remaining land. Up to 20 villagers were reported killed.
Factory workers have been hard-hit also, as the decaying and inefficient state economic enterprises have been shut down or privatized. Such changes are estimated to have cost some 34 million workers their jobs since 2000.
Analyst Chung says more and more people are being affected.
"An increasing segment of the Chinese population is complaining that they have difficulty in satisfying their demands for education opportunities for their children, for medical care, for decent accommodation; that securing of the daily necessities is becoming more difficult, more problematic, placing a severe burden on their lives," Chung says.
Just over a year ago, the central government announced a package of measures designed to restore a social content to the prevailing liberal economics, particularly for rural areas. Under the general slogan of "building a harmonious society in China," the program foresees better land-use planning, more protection for farmers, more spending on health care and education, and lower taxes.
"The Chinese leaders are responding in building a better, more widely covering net, although, at the same time, Chinese leaders are most reluctant to introduce democracy," Chung says.
As to the lack of democracy, the contradiction between a liberalized economy and centralized political power is becoming more evident. For many years, it was conventional wisdom in the West that a free market economy in China would inevitably shape a more pluralistic political system.
This has not happened. The Chinese Communist Party has been able to keep the reins of power, while allowing the economy to grow spectacularly. But the price for that is beginning to show.
With China taking on the characteristics of a complex, modern industrial state, clashes of interest between farmers, industrialists, workers, businessmen, the middle class and other social groups are growing. But such tensions can find no political expression, as in a democracy.
And despite Luo's call for local authorities to be more active in conflict resolution, it is often the local officials who are most open to bribes. Aggrieved groups often feel they can get little redress from their local government, and legal procedures are similarly slanted in favor of those with power.
The result is that grievances are more frequently spilling over into incidents of unrest by what officialdom describes as "discordant elements" -- who in reality may be ordinary people tired of being ignored.
An Increasingly Thirsty World
An Increasingly Thirsty World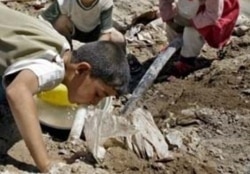 An Iraqi boy drinks from a waste-water reservoir near Baghdad (epa file photo)

A MATTER OF LIFE AND DEATH. Disputes about access to water are increasingly coming to the center of global attention, especially in China, India, and Central Asia. Writing about the 1967 Six Day War in his 2001 memoirs, Israeli Prime Minister Ariel Sharon said that "while border disputes between Syria and ourselves were of great significance, the matter of water diversion was a stark issue of life and death." (more)
RELATED ARTICLES
Tibetan Water Plans Raise Concerns
Environmentalists Say China Misusing Cross-Border Rivers
China's Economic Boom Strains Environment
Nature Waits For Cross-Border Sanctuaries To Catch On
Overused Rivers Struggle To Reach The Sea
UN Water Report Takes A Hard Look At Central Asia
Irrigation, Pollution Threaten Central Asian Lakes


THE COMPLETE STORY: Click on the icon to view a dedicated webpage bringing together all of RFE/RL's coverage of Kazakhstan, Kyrgyzstan, Tajikistan, Turkmenistan, and Uzbekistan.