RFE/RL: How does it happen that a man from a nation of just 3.5 million people becomes coach of the Olympic men's basketball team of China -- a country with a population of well over 1 billion?
Jonas Kazlauskas: I think the main factors have been the victories of Lithuanian basketball teams. Probably, the Chinese saw the Lithuanians play during the World and the Olympic games. And they observed how the Lithuanian team, three times in a row, won bronze medals. They do not hide the fact they would like to win some medals at the Beijing Olympic games. They don't know if they can manage it or if we will have enough time to get ready, but they do not make a secret out of [their goal]. So, out of respect for such a small nation, which has accomplished so much in basketball, they invited a specialist from that country in hopes that he would somehow manage to do something.
RFE/RL: China has a strong basketball team already. The men's team won the Asian Games in 2006. Is it becoming one of the strongest teams in the world?
Kazlauskas: If you compare it with the strongest teams, there is no doubt that the Chinese players are lagging behind a little bit. But they are making huge progress and, for instance during the latest World Championships, they won against such strong teams as Slovenia, which planned to get world medals. They are making huge progress, but they still do not belong to the elite.
RFE/RL: Basketball was never popular in China. Are things changing now?
Kazlauskas: Though basketball traditions are not old in China, basketball is getting more popular. The latest victories and the new stars like [Houston Rockets player] Yao Ming attract more and more young Chinese to the sports halls, and it is a moving force behind the trend.
RFE/RL: China is training about 20,000 athletes for the Olympic Games. Peter Ueberroth, chairman of the U.S. Olympic Committee, has said China is likely to be No. 1 in Beijing. Four years ago, in Athens, China won 32 gold medals -- just behind the 36 won by the United States. Do you think China, indeed, has such high expectations for its athletes' performance in the 2008 Olympic games?
Kazlauskas: Maybe we will have these expectations more clearly expressed when we get closer to the date of the games. Now, we hear only about modest plans for the future and are trying to get ready for 2008. Until now, the precise plans have not been formulated yet.
RFE/RL: You are a professional basketball player and also a professional basketball coach. From 1997 to 2001, you were the coach of the Lithuanian national team, which is considered one of the best in Europe and won the European gold medal in 2003. You have coached two top Lithuanian basketball clubs and currently are the head coach of Greek Olympiacos club. What do you find when you go to China to coach the men's team there?
Kazlauskas: Probably, there are no big differences in training, no big differences in sports halls, because international basketball is the same everywhere. Everything needs to be done to make training the most productive to get the best results. It doesn't matter if you work in Lithuania, Greece, or China. Training just needs to give results and be good. Maybe, there are more differences while living one's personal life because we belong to different cultures and observe different customs. Many things that look simple for them are difficult to understand for me. And what is difficult to understand for them, is easy for me.
RFE/RL: And, finally, what are your own predictions for which nations will do well in basketball at the 2008 Olympics?
Kazlauskas: I think that the U.S. team will be very strong. I think they have learned from their latest setbacks and will do everything to win these Olympic games. I think that some five or four other teams will also be very strong too. I have in mind Spain, Greece, Argentina, France, and Lithuania.
Central Asian Cinema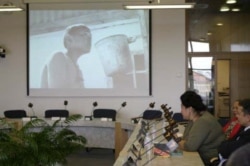 Gulnara Abikaeyeva's June 29 presentation in Prague (RFE/RL)
EAST OF THE WEST:
On June 29, RFE/RL's Prague broadcasting center hosted a presentation by
GULNARA ABIKEYEVA
, director of the Central Asian Cinematography Center in Almaty, Kazakhstan. Abikeyeva is a leading expert on Kazakh and Central Asian cinema, a chairwoman of the jury of this year's East Of The West section of the Karlovy Vary film festival. Abikaeyeva gave an overview of major trends in Central Asian cinema since the 1960s. Abikeyeva has just completed a major DVD collection of the most popular films of the five Central Asian countries and is now beginning work on a similar collection of Central Asian documentaries.
LISTEN
Listen to the complete presentation (45 minutes):

Real Audio
Windows Media
Other Articles On Central Asian Culture:
Silk Road Revival Grows As More Sites Protected
Central Asian Directors Discuss Issues Behind The Camera
Ancient European Music Meets Central Asian Masters
Central Asian Masters Revive Old Ways Of Teaching Traditional Music
ARCHIVE
To view an archive of RFE/RL's reporting on culture throughout its broadcast area, click here.


THE COMPLETE STORY: Click on the icon to view a dedicated webpage bringing together all of RFE/RL's coverage of Kazakhstan, Kyrgyzstan, Tajikistan, Turkmenistan, and Uzbekistan.