A Familiar Pattern
Shosalimov, an Uzbek rights activist and presidential candidate, cancelled his planned press conference today following the brief detention of his wife on January 31.
Being a rights defender has never been easy in Uzbekistan, but since this is a presidential election year...the examples of Niyazova and Shosalimov are likely to be repeated many times.
Shosalimov is not the only Uzbek rights defender facing problems. Independent journalist Umida Niyazova is in detention after traveling to neighboring Kyrgyzstan to interview witnesses to the bloody government crackdown in the eastern Uzbek city of Andijon in May 2005. She may face charges of involvement in a banned religious group.
Shosalimov this week published an article complaining that Uzbekistan's Constitutional Court had violated his rights by naming the date for presidential elections without allowing the public to participate in the process.
Uzbek President Islam Karimov's term in office officially expired on January 22, exactly seven years after his inauguration for a second and final -- according to the constitution -- term in office. But the Constitutional Court referred to amendments from a 2002 referendum that said presidential elections would be held in December of the year the president's term expired.
Public Criticism Prevented
Shosalimov said the court's decision without any attempt to include the public violates Article 32 of the constitution which guarantees citizens the right to participate in the political process.
Shosalimov's complaints about the constitutional court were made public on January 30. He planned to discuss his criticism of the court at a press conference today, but on January 31 Uzbek authorities moved in to stop the event.
Veteran rights activist Yelena Urlaeva, who has been harassed numerous times by Uzbek authorities -- including being jailed and committed to a psychiatric hospital -- reported on the situation on January 31.
"Today (January 31), literally one hour ago, [other activists] called us at the office and said that the police burst into the home of the wife of Jahongir Shosalimov and forcibly took her from the home," she said.
Shosalimov searched all over Tashkent for his wife but could not find her. "Today at 11 a.m. the head of the antiterrorist unit of the Uch-Teppe district, headed by Zamon Ruziev, took my wife away to the closest police station and then they took her by car to different places," he said. "I don't know where she is. I have been to several police stations [looking for her]."
Wife Detained
Uznews.uz later cited Urlaeva as saying Shosalimov finally found his wife at a police station, at which time the police told Shosalimov to cancel the planned press conference in exchange for his wife's freedom. Urlaeva also told RFE/RL that Shosalimov's family is being harassed.
"After the article was published pressure was put on the family of Jahongir Shosalimov, there were threats [made against him and his family]," she said.
Niyazova was originally detained in late December as she returned to Uzbekistan from Kyrgyzstan where the 32-year-old independent journalist was interviewing witnesses to the violence in the Uzbek city of Andijon in May 2005.
The Uzbek government claims 189 people were killed when security forces and soldiers fired on crowds to suppress what the Uzbek government says was an attempt to overthrow the government. Other sources put the death toll much higher, saying several hundred people -- the majority being peaceful protesters -- were killed.
Niyazova had a computer that contained interviews with witnesses, including relatives of alleged members of Akromiya, the banned Islamic group that the Uzbek government says was behind the alleged coup attempt.
Niyazova was released from custody but authorities kept her computer and discs. In late January, Umida suddenly disappeared. Andrea Berg of the U.S.-based organization Human Rights Watch spoke with RFE/RL's Uzbek Service several days after Niyazova was last seen leaving her home.
Whereabouts Unknown
"We are very concerned about the situation of Umida Niyazova," Berg said. "It's the fourth day now that we do not know about her whereabouts, the family does not know where she is and her lawyer does not know where she is and we are afraid that she is [being] held at MVD (the Interior Ministry) or SNB (the Security Ministry) or that somebody just kidnapped her."
Niyazova was, in fact, in detention again. She spoke with RFE/RL's Uzbek Service from where she was being detained.
"The investigation is under way and apparently they are going to hold me in detention," she said. "Well, we will see what happens next. Oh, it seems I am not suppose to talk for long."
This week, Uzbek authorities started preparing charges against Niyazova. Her lawyer, Abror Yusupov, spoke about the charges.
"Now [the Uzbek authorities] are starting to connect her (Niyazova) and charging her with being part of Akromiya," he said. "They are charging her under a contraband law, Article 246, section 1 [of the criminal code]. On the computer that was confiscated from her there was information about Akromiya and interviews with family members of Akromiya supporters."
Being a rights defender has never been easy in Uzbekistan, but since this is a presidential election year and -- constitutionally -- President Karimov should leave office at some point, the examples of Niyazova and Shosalimov are likely to be repeated many times.
(Shukrat Babajonov of RFE/RL's Uzbek Service contributed to this report.)
Andijon Anniversary Conference
Andijon Anniversary Conference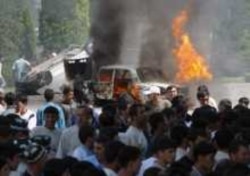 Violence in Andijon, Uzbekistan, on May 14, 2005 (epa)


TALKING ABOUT ANDIJON:
On May 9, 2006, RFE/RL, the National Endowment for Democracy, and U.S.-based human rights organizations cohosted a conference on the May 2005 events in Andijon and their aftermath in Uzbekistan and throughout the region. The first panel featured Andijon eyewitness
GALIMA BUKHARBAEVA
, National Endowment for Democracy Fellow
NOZIMA KAMALOVA
, RFE/RL Central Asia analyst
DANIEL KIMMAGE
, and others. The second panel featured presentations by U.S. Senator
JOHN MCCAIN
and U.S. Congressman
CHRISTOPHER SMITH
, who used the forum to announce they had introduced legislation calling for sanctions and other measures against the government of President Islam Karimov.
LISTEN
Listen to the Andijon conference. Part One (70 minutes):
Real Audio
Windows Media
Part Two (60 minutes):
Real Audio
Windows Media
The Uzbek government's response:
Real Audio
Windows Media


THE COMPLETE STORY: A dedicated webpage bringing together all of RFE/RL's coverage of the events in Andijon, Uzbekistan, in May 2005 and their continuing repercussions.
CHRONOLOGY
For an annotated timeline of the Andijon events and their repercussions, click here.