Pro-government supporters, who accuse Syria of involvement in the bombing that killed Hariri on February 14, 2005, plan to gather near Hariri's grave in central Beirut.
Syria has always denied any role in the attack.
The antigovernment opposition, including Hizballah supporters, are expected to stage their own protests as part of their campaign aimed at bringing down Lebanon's government.
Three people were killed and some 20 others injured on February 13 when bombs exploded within minutes of each other on two commuter buses in a mainly Christian area northeast of Beirut.
It was not clear why this area was targeted and there has been no claim of responsibility.
The United Nations Security Council has issued a statement condemning the bus bombings, calling them an attempt to undermine security and efforts to preserve stability in Lebanon.
(compiled from agency reports)

Former Lebanese Prime Minister Rafiq Hariri
Former Lebanese Prime Minister Rafiq Hariri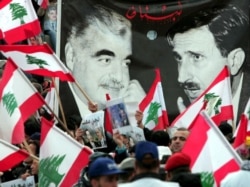 Lebanese demonstrating in Beirut on the first anniversary of Hariri's slaying in February (epa)
POINTING AT SYRIA. The February 2005 assassination of former Lebanese Prime Minister Rafiq Hariri shook the fragile political situation in Lebanon and threatened the entire region. The international community have been increasingly vocal in accusing Syria of involvement in the killing and in demanding that Damascus cooperate with a UN investigation....(more)
RELATED ARTICLES
Lebanon's Cedar Revolution Hangs In The Balance
500,000 Rally In Beirut To Mark Anniversary Of Premier's Slaying
People Want 'Truth,' But Not All Welcome Mehlis Report
Security Council Demand Syria Cooperate With Hariri Probe
Syrian Interior Minister's Death Linked To Lebanon
ARCHIVE
All of RFE/RL's English-language coverage of
the Middle East
. The Arabic-language website of
RFE/RL's Radio Free Iraq
. The Farsi-language website of
Radio Farda
.