U.S. Asked To Disclose Fates Of Terror Suspects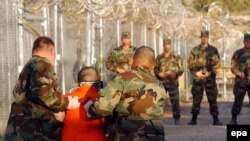 U.S. troops escort a detainee at Guantanmo Bay, Cuba (file photo) (epa) February 28, 2007 -- Human Rights Watch is asking U.S. President George W. Bush to disclose the fates of all terror suspects held since 2001, including at least 16 it believes have been locked up in secret CIA facilities.
The NGO said it compiled a report about the 16, whose whereabouts are unknown, along with 22 others possibly held by the CIA.
HRW said the February 27 report -- titled "Ghost Prisoner: Two Years In Secret CIA Detention" -- is based on interviews with former detainees, press reports, and other sources.
In a letter to Bush on February 26, Joanne Mariner, director of Human Rights Watch's terrorism and counterterrorism program, said her organization recognizes some terror suspects may have committed crimes that merit incarceration. But she said they should be charged with crimes.
In a statement, CIA spokesman Paul Gimigliano said that the agency's interrogation program has been conducted lawfully.
(Reuters, AP)