German Judge Regrets Linking Wife-Beating To Koran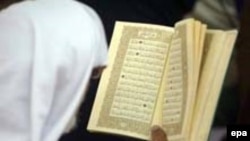 A woman reads the Koran (file photo) (epa) March 23, 2007 -- A female German judge who sparked outrage by saying the Koran allowed a man to beat his wife now says she regrets her remarks.
The judge, Christa Datz-Winter, had refused a quick divorce to a battered Moroccan-born woman, saying it was not unusual for a man with Moroccan background to physically punish his wife.
The Frankfurt court removed Datz-Winter from the case after she justified her ruling by citing a section of the Koran.
Politicians and Muslim groups condemned Datz-Winter's ruling this week, after it received wide media attention when the court upheld a complaint of bias against her.
Justice Minister Brigitte Zypries said she was "stunned" by the ruling, which she described as an aberration.
The court's vice president, Bernhard Olp, said on March 22 that Datz-Winter now regretted the impression that she approved of violence in marriage.
(AP, Reuters, AFP, Euronews)