The announcement -- along with Rahmon's call for all Tajiks to follow suit -- prompted accusations in the Russian media of aggressive "nationalism."
Russian papers responded with irreverent humor to Rahmon's choice to de-Russify his surname.
One paper characterized it as a presidential "circumcision." Another played on the Russian surname Kozlov -- strictly translated as "son of a goat" -- asking whether the name should be simplified to "goat."
Aleksei Malashenko, an expert on philosophy and Islam from Carnegie Endowment for International Peace in Moscow, predicts that Tajikistan will do more to break with its Soviet past and pursue stronger ties with neighboring Iran and Afghanistan -- which essentially share a common language with Tajikistan.
"If this 'traditionalization' continues in Tajikistan, I don't think it will be the best alternative for the country," Malashenko says. "Tajikistan should think about modernization of society rather than returning it to ancient values, as some have been trying to do. Instead, they have to try to make [Tajik] society more open, more adapted to progressive societies. As we all know, Tajikistan -- no offense [intended] -- is not the most advanced country in the world."
Just The Start...
Malashenko speculates that Tajikistan's next move might well be to change its official alphabet -- introducing Arabic script instead of Cyrillic.
The alphabet issue has long been the subject of heated debate among Tajik scholars and politicians.
Malashenko regards this as part of a trend of "traditionalization" among former Soviet republics.
But the retreat from Slavic-sounding surnames does not appear to be gaining significant momentum in the rest of Central Asia. The name change was popular after the collapse of the Soviet Union in 1991, when many writers, journalists, and others among the so-called "intelligentsia" opted for the move.
...Or Losing Steam?
All the Central Asian countries permit the name change. But in reality, many people find the procedure time-consuming and thus discouraging.
In Uzbekistan, sociologist Bakhtiyar Isabekov tells RFE/RL that he tried to remove the Russian suffix from his surname. But he abandoned the effort in the face of exhausting legal obstacles.
"If you want to drop the '-ov' suffix from your surname and in its place add other [Uzbek] suffixes -- like '-zoda' -- you would have to provide a lot of documents," Isabekov says. "It's a very complicated procedure."
"Who cares? The [Kazakh] president is himself Nursultan Nazarbaev."
In Kazakhstan, not many people bother to revert to pre-Soviet surnames. But many register their newborn babies with traditional surnames because it requires no additional paperwork or fees.
Twenty-year-old Kazakh student Isatay Korganbaev says he could not care less about his surname.
"It doesn't matter if you have '-ov' or '-ev,'" Korganbaev says. "You can have your surname in any form, it makes no difference. I don't care too much about it. What's the big deal here? Well, I would probably change it in future if I have to, but now… Who cares? The [Kazakh] president is himself Nursultan Nazarbaev."
At the same time, some ethnic Kazakhs resettling from China or Turkey have added Russian suffixes to their names -- apparently trying to blend with the locals.
In Turkmenistan, some writers and journalists use more traditional surnames as pen names, while keeping their Russian-style names unchanged in their passports.
In Kyrgyzstan, some men who swapped Russian for Kyrgyz suffixes -- like "-uuly," "-qyzy," or "-tegin" -- in the 1990s are restoring the Soviet-era endings.
Try To 'Sound More Tajik'
Since seasonal work in Russia is a key source of income for hundreds of thousands of Central Asians, many have found it easier to register their documents in Russia with Russian surnames.
Even in Tajikistan, not everyone is looking forward to "sounding more Tajik," as President Rahmon describes it.
Shokirjon Hakimov, a Tajik lawyer and politician, says such a move presents many hurdles. He says it could also overwhelm Tajikistan's creaky bureaucracy.
"Many of those officials who work within the passport and registration system have yet to learn how to deal with the issue," Hakimov says. "Apart from that, the government will use it as a reason to make some money for its budget."
Rahmon has also urged parents not to include the Russian suffix when they register their newborn babies.
But the legal and financial hurdles may well discourage many Tajiks from returning to pre-Soviet surnames.
Moreover, in a country where more than half the population lives below the poverty line, "exploring cultural roots" might come well down most ordinary Tajiks' list of priorities.
(RFE/RL's Kazakh, Kyrgyz, Tajik, Turkmen, and Uzbek services contributed to this report. Editor's note: RFE/RL style has been changed to "Emomali Rahmon" in light of the Tajik president's announcement and RFE/RL's own scrutiny of its transliteration style; we formerly referred to him as "Imomali Rakhmonov.")
The Post-Soviet Environment
The Post-Soviet Environment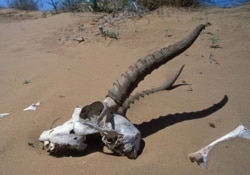 The skull of a male saiga antelope in Kalmykia. Saiga numbers have collapsed disastrously over the last decade. (shpilenok.com)
THE FRAGILE PLANET:
Since the collapse of the Soviet Union, old environmental disasters have come to light and new ones have emerged. War, poverty, and weak central-government control have led to serious environmental problems from Eastern Europe to the Russian Far East. RFE/RL has provided extensive coverage of these important issues and of efforts to cope with them.
RELATED ARTICLES
Saiga Antelope's Saga Attracts New Allies
Project To Reverse Aral Sea Damage Making Progress
Iraqi Marshes Show Signs Of Strong Recovery
Deforestation Rampant In South And Central Asia
Environmentalist Says BTC Pipeline Could Be 'Death Of Caspian'
Scientists Raise Alarm As Man-Made Deserts Spread
Nature Waits For Cross-Border Sanctuaries To Catch On
Central Asian Vllagers Encouraged To Protect Snow Leopards
Environmentalists Raise Concerns About Russian Ecology Policy
ARCHIVE
RFE/RL coverage of environmental issues
.