The Environmental Protection Ministry says preliminary data suggest that the deaths were caused by abnormally warm temperatures, which have prevented the formation of ice in the northeastern part of the Caspian Sea.
Disease, pollution, hunting, and overfishing are believed to have driven the number of Caspian seals to some 100,000, from 400,000 in the 1980s.
(Kazakhstan Today, Interfax-Kazakhstan)
Global Climate Change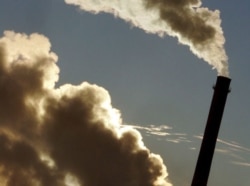 View a photo gallery summarizing some key findings of the Stern report on the economic costs of global warming (epa)

THE STERN REPORT: In October, former World Bank chief economist Sir Nicholas Stern issued a 700-page report on the economic impact of global warming. The report, which was commissioned by the British government, estimates that climate change could cost between 5 and 20 percent of global GDP by the end of the century....(more)
RELATED ARTICLES
Siberia's Once Frozen Tundra Is Melting
Blair Highlights Global-Warming Concerns
Scientists Argue About Need For Urgent Action
ARCHIVE
RFE/RL's
coverage of the environment
.