Oralgaisha Omarshanova was last seen on March 30 after publishing a story about recent violence in a village in southern Kazakhstan in which several people were killed.
A colleague, Mukhit Iskakov, told journalists in Almaty today that Omarshanova had bought a weapon to protect herself.
"Oralgaisha told me that she had received several threats by telephone," he said. "After that, she got a licence and bought a Winchester rifle in Qaraganda. She officially registered it in Astana, and then we moved to Almaty together."
Omarshanova has worked for the "Law and Justice" newspaper for about a year and has written a number of stories linking businessmen to corruption.
Kazakh Interior Ministry spokesman Bagdat Kojhakhmetov told RFE/RL that police were investigating Omarshanova's disappearance but said they didn't have any information on her whereabouts yet.
(with material from Reuters)
'Attacks On The Press -- 2006'
'Attacks On The Press -- 2006'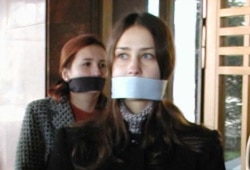 Ukrainian journalists demonstrating against censorship in December 2006 (RFE/RL)


'DOMINO EFFECT.' Two experts with the Committee to Protect Journalists told an RFE/RL-Radio Free Asia briefing on February 6 that their organization is concerned Russia's increasingly restrictive media environment is being copied by other countries in the CIS.
LISTEN
Listen to the entire briefing (about 80 minutes):

Real Audio
Windows Media
RELATED ARTICLES
New Program Finds Way Around Internet Censorship
CPJ Discusses Dangers, Obstacles Journalists Face
East: RSF Calls Iraq, Iran 'Graveyard Of Freedom'
Media Situation Worsening In Central Asia, Russia, Azerbaijan
SUBSCRIBE
For regular news and analysis on media issues throughout RFE/RL's broadcast area by e-mail,
subscribe to "RFE/RL Media Matters."